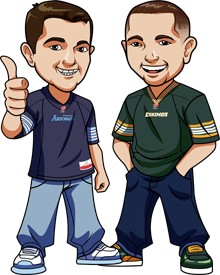 Written by Graeme & Scott on Friday, June 21st, 2013
Follow @BetCFL
So you're sitting there with your credit card ready – the CFL season is underway, and you want to bet. You want to bet on the Grey Cup Winners, you want to bet on the individual games, you want to bet on individual team and player props.
Great – we're here to help. We've been betting online since 2002, and have accounts at over a hundred sportsbooks. We can save you the pain and hassle by telling you the best places to bet the CFL online.
What we're doing here is hand-picking the 3 best overall sportsbooks for the CFL. We'll tell you in a short paragraph WHY you should be betting at this place, and then give you a bullet point list of the features.
Hi - we see you're visiting from America! Unfortunately none of the below sportsbooks apply to you. The best online sportsbook for you for betting the CFL is without a doubt Bovada.
#1 Best CFL Betting Sportsbook: Sports Interaction
Visit Sports Interaction and after just 1 minute, you'll know why they are the best. To start with – they have Trish Stratus as a supporter of the team. More importantly however – Sports Interaction is focused big time on the Canadian market. Canada is their primary market – so you can be guaranteed that they will offer the best betting odds, specials, props and lines for the CFL.
Endorsed by Trish Status
Primary market is Canada
Based in Canada
Great variety of CFL bets and props
Easy to deposit
$100 in free bets for new signups
Mobile betting
Have early CFL lines up before anyone else
Transparency – provide information on who everyone is betting on for the CFL
For more on Sports Interaction and to sign up at our #1 recommended CFL Sportsbook, visit SportsInteraction.com.
#2 Best CFL Betting Sportsbook: Bodog
Bodog are more of a global brand. Despite that, a large portion of their base is in Canada, and founder of Bodog Calvin Ayre was born in Sasketchewan. Bodog have always loved Canada, and currently have their own specific team just for Canada. They are an excellent second choice for Canadians looking to bet CFL, who also run ads on TSN.
One of the biggest brands online
Very trustworthy, advertise on TSN
$100 in free bets for new signups
Live in-play betting
Mobile betting
Unique CFL Props
Big refer a friend program
Solid rewards program
Check out Bodog and everything they have to offer CFL related at https://www.bodog.eu.
Follow @BetCFL