CFL Weekly Betting Tips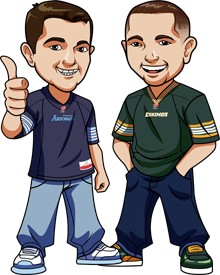 Welcome to the Weekly CFL Betting Tips. This page will provide you with the latest CFL betting picks for this week, as well as provide an archive of all of our tips for complete transparency.
There are two people working on these tips – Graeme & Scott(with collaboration from a top CFL Linesmaker). Each week, Graeme will write two of the articles with his betting tips and Scott will write the other two betting tips articles, with his tips.
However both of us for the most part agree on the tips we post. We get together and we go through all the data, study the games and analyze everything and then both of us work together to come up with the best possible CFL Betting Tips for you.
Here are the latest CFL Tips for this week:
CFL 2019 Week 6 Betting Tips We had a decent week last week going 3-1.
We first had the Eskimos -3.5 against the Lions and they easily covered that winning 33-6. The Eskies defense was amazing sacking Reilly 5 times and keeping the Lions to only 177 total yards.
Next we had the Blue Bombers to beat the Argonauts with the spread -12.5. ...
And here is a complete archive of all of our tips: