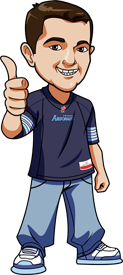 Written by Scott on Tuesday, June 28th, 2016
Follow @BetCFL
Well the 2016 season got off to a great start and we went 2-2 with the betting tips.
The first game of the week was the Ticats vs the Argonauts and we took over 53 points.  This came through for us when the Ticats won 42-20.  Hamilton scored early and often in this one.
The 2nd game was the  Alouettes vs the Blue Bombers.  We had the Bombers -3 but the Als scored first and led the entire game eventually winning 22-14.
The Redblacks vs the Eskimos was game 3 of the week.  We took the Redblacks +6 and they didn't need the spread when they came away with the 45-37 OT win. Trevor Harris came into the game when Burris was injured and his first action as a Redblack was awesome.  He threw 3 TDS including the game winner in OT.
The last game of the week was the Stampeders vs the Lions and we went with the Stamps -4.  The Lions won 20-18. The Stamps entered the 3rd quarter up 10-3 but the Lions came alive and they picked up the win.  Chris Rainey ran one in for a TD and returned a punt for 72 yards and a score.
Week 2 starts on Thursday June 30th with 2 games and finishes up on Friday with another 2 games.
Redblacks vs Alouettes Betting Tips
Burris is going to miss this game with an injured finger.   Trevor Harris came in and looked amazing so it's going to be interesting to see him get the start and see what he can do for a full game.  I like Ottawa to come together and win this one with Burris being out.
Redblacks win
Argonauts vs Roughriders Betting Tips
The Argos looked terrible in their home opener at their new home BMO field.  This is the Riders first game of the season so it's tough to get a read on them but with the way the Argos played in week 1 I like the Riders chances in this one.
Roughriders -2.5
Lions vs Tiger-Cats Betting Tips
The Lions came from behind to win against the Stamps in week 1 which is going to give them some huge momentum for this game.  The Ticats looked dominate all game in week 1 against the Argos. 
The Ticats are at home and are the better team so I have to go with them in this one.
Tiger-Cats -6
Blue Bombers vs Stampeders Betting Tips
After losing in week 1 you know that the Stamps are going to come out ready for this game.  They had the lead in the 3rd but allowed the Lions to storm back and take the win.
I think they win this game with ease and in the process regain confidence for the team moving forward
Stampeders -9
Follow @BetCFL