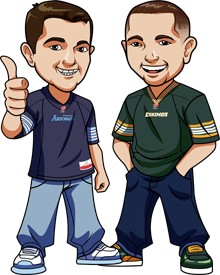 Written by Graeme & Scott on Friday, June 21st, 2013
Follow @BetCFL
It's a question we get often – why should I bet online? And even though we wrote this post back in 2013 it still applies today.
Not just the CFL – but the NHL, NBA etc. If you're based in Canada, most of the time you will bet by going to your local store. You'll place bets on Pro Line, Sport Select or whatever it is in your province.
And that's fine – it's understandable. It has it's pro's. Payouts, for example. If you win your bet it's a 1 minute walk to the local store to pick up your winnings. (Although online you can get your money in as little as 3 business days – more on that later).
But when it comes down it, there's really only one question to answer:
Is the convenience worth burning money?
Because if you are betting with Pro Line, Sport Select or whatever – that's what you are doing. You're burning money. It's just completely unwinnable in the long-term.
It's like betting on heads or tails, and getting 30/70 odds on the money return.
Pro Line and Sport Select are bad for quite a few reasons. Let's take the main ones although we'll only refer to Pro Line for the rest of the article for ease of reading:
No Need to Place 3 Bets:
No single bets. If you think the Argonauts are favourites to win the game – you can't JUST go and bet that. You have to go and bet 2 other lines as well – ones you may not feel strongly about! Seriously? That's just ridiculous.
Imagine going to see Iron Man 3, and the Cineplex tells you "If you want to buy a ticket for Iron Man 3, you need to also buy tickets for the latest Wayans Brothers parody movie, and whatever shit movie Nicolas Cage has churned out this month". Can you imagine that? Of course not – because it'd be ridiculous.
Which is what the 3 bet minimum is. Ridiculous.
When you bet online, you can bet just 1 bet. Simple as that. Think the Argos are going to win the Grey Cup? Boom, bet it. No need to spend an hour looking at potential other lines. Seriously – check out Bovada right now and look at the huge selection of bets they have there that you can bet right now – one at a time.
Better Odds:
All of the online sportsbooks offer much better odds than Pro Line. We'll take some screenshots during the season to show you. The winnings you can get by betting 3 online at pro line? You can get double that at online sportsbooks. And it's nothing to do with lower overhead costs or anything like that – the sportsbooks just have a lot of competition with other sportsbooks, therefore offer much fairer odds.
As opposed to the Government run gambling, whose sole aim is to basically collect taxes from your sports betting.
Variety of Bets:
Pro Line has a crazy low selection of betting options available for Canadians. Compare that to online where you have a huge betting variety. Future betting(ie: Grey Cup Winners, East Winners) which are updated after every week alowing you to bet any time on the Grey Cup Winners. Or player and team props like betting what team will end with the worst record etc.
Go check out Bovada or Bovada and you'll see exactly what we mean.
Withdrawals:
Okay – this is where arguably Pro Line is better – you can simply pop to the store to get your payout.
However, withdrawing online isn't too hard if you know what you're doing. If you deposit via credit card, they can either withdraw your money to your bank account or via cheque. Sometimes there are minimum amounts required to deposit however – but either way, the process is smooth.
The best method though is with Moneybookers. Moneybookers is like Paypal except they allow you to do gambling. So let's say you get a big one at Bovada. You withdraw to Moneybookers and it will take just 1 day. Then you withdraw to your bank account from Moneybookers and it will take 2 business days.
Is it not worth waiting 3 extra days to get your money, when you'll be able to get so much more money? Without all these crazy restrictions.
Of course it is. Head to Bovada and sign up now and never look back. Hell you can bet on your cellphone while at the local pub. You just can't beat it.
Follow @BetCFL