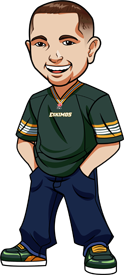 Written by Graeme on Thursday, November 14th, 2019
Follow @BetCFL
It was a 1-1 week last week with the Division Semi Finals.
One Alberta team made it and one did not. The one that did was the Edmonton Eskimos. We actually took the Alouettes -2 there thinking Montreal would be up for the game and able to take it. Alas they started slow and couldn't get the game back. Vernon Adams Jr threw three picks in that one.
It was all about Trevor Harris though – the dude just looked in the zone and it was a great game there. Eskimos move on to take on the Tiger-Cats as they look to become the first crossover team to make it to the Grey Cup.
We won in the other game though with Blue Bombers +5.5 and we didn't even need the points. Winnipeg gave the Calgary Stampeders an absolute thumping. Collaros and Streveler stepped up for the Bombers in a big win with a 20 point 4th quarter.
So we turn our attention to this weekend. Both games take place on Sunday with the victors going to the Grey Cup.
The Edmonton Eskimos go to Hamilton as 6 point underdogs while the Saskatchewan Roughriders host the Winnipeg Blue Bombers as 3 point favourites.
Let's look at both and make our picks:
Eskimos at Tiger Cats Betting Tips:
The Hamilton Tiger-Cats made it here by winning the East. A 15-3 record with a perfect 9-0 at home. Very, very impressive and they rode a 6 game winning streak into the playoffs. In saying that when a team is dominant like that it often concerns me as I feel taking a week off can be detrimental at times at such a crucial time.
Props to the Eskimos last week but they basically got here by default after an 8-10 season. Couldn't even cross the .500 mark and stumbled across the finish line, losing their last two. Honestly it did seem like they were just waiting for the playoffs.
The Eskimos had a great game last week. However Hamilton are just a completely different animal. They can't really run the ball too well but everything else about them is just incredible. Dane Evans has been an absolute killer since replacing Masoli and looks to really be rolling. Hopefully the pressure doesn't get to him.
In the two games this season between the teams, Tiger-Cats won both and I just think that's going to happen again. Eskimos really had no pressure last time out considering their record but now the pressure is on. I think the play of Trevor Harris is very curious and that the Tiger-Cats will come out on top.
Tiger-Cats -6 to win. Bet the CFL here!
Blue Bombers at Roughriders Betting Tips:
The Blue Bombers of coruse finished third in the West but had that big win over the Stampeders last week. Bigger test against Saskatchewan though. It's interesting as the Bombers aren't a good road team by any means.
Saskatchewan finished 13-5 for the season and ride a 3 game winning streak into the playoffs.
This is the first time Sask have hosted the West final in a decade. A big game for them.
You have to think Zach Collaros is going to be up for this one. Saskatchewan gave up on him now he has the chance for revenge? I love it. He's also looked good playing for the Bombers so far. Their running game last week was killer too.
As for Saskatchewan? Well Cody Fajardo is killing it however he has been battling an oblique injury. He is going to play apparently but man that might mess things up. He isn't going to be running the ball as much I expect and I think that affects things.
I'm going with Collaros to get his revenge.
Follow @BetCFL