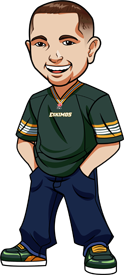 Written by Graeme on Thursday, August 8th, 2019
Follow @BetCFL
A good week of CFL action, although unfortunately another 1-3 week. It's been a good season but disappointing to have two losing weeks in a row.
Hopefully a much better time this week out.
Our win was the Redblacks +7.5. Alouettes were becoming heavily favoured after 3 excellent performances however the Redblacks didn't just cover the spread but ran out 30-27 winners in overtime.
We lost with Eskimos/Stampders over 48.5 as that one hit 42 points. It was a brutal first half for points in that one. The second half was more of what we expected with 33 points but by then it was too late.
We had the Tiger Cats +1.5 vs the Roughriders but Saskatchewan won 24-19 with a massive 11-3 4th quarter. Tough loss that.
Argonauts beat the Blue Bombers in a complete shock. Even crazier is Argonauts were down by double digits in the 2nd only to come back and get the win.
It's the Stampeders vs Blue Bombers tonight, then tomorrow night we have the Roughriders vs Alouettes and Redblacks vs Eskimos. Finally we've got the Lions vs Tiger-Cats.
Let's get to it:
Stampeders vs Blue Bombers Betting Tips
The Calgary Stampeders are 7.5 point underdogs in this one despite coming off the win over the Eskimos. The Blue Bombers are expected to bounce back strong here.
Both teams are currently 5-2-0 in the West, although the Blue Bombers have a perfect home record through three games.
It's an interesting one. The Stampeders are one of those teams that are relying more on turnovers and special teams at the moment. You never know if their luck will run out, or if they'll get everything together and just start rocking.
Nick Arbuckle has did quite decent for the Stampeders. This will likely be his last game before Bo Levi Mitchell returns. Last week was crazy how bad the Bombers defense was exposed.
I think Bombers win but I think it will be a close one.
Roughriders vs Alouettes Betting Tips
The Montreal Alouettes are 2.5 point underdogs in this one.
The Alouettes are 3-3 and 2nd in the East. The Roughriders are 4-3 and just 1-2 on the road.
I'm surprised at the point spread considering Vernon Adams is out. William Stanback isn't either. Alouettes defense is excellent but their offense is seriously going to struggle here.
Redblacks vs Eskimos Betting Tips
The Redblacks are 9.5 point underdogs in this one.
Ottawa are 3-4-0 for the season and 2-1 on the road. The Eskimos are currently 4-3 but are 3-0 at home.
Have to think on paper, the Eskimos can thrash them here. Their defense is on fire and I think the Redblacks will really struggle to score here.
I'm going to go with the under on this one.
BC Lions vs Hamilton Toger-Cats Betting Tips
To wrap up Week 9 in the CFL, these two teams take to the field on Saturday, August 10th. Hamilton are at home and 10.5 point favourites. The Tiger-Cats are leading the East, 4-0 at home, and the Lions are 1-6 for the seaosn.
Hamilton however have numerous injuries that is going to seriously hurt them. I think we've got to bet BC here as much as I really don't want to. This line has been bet down from +13 which is when I popped on it. Probably still worth a play honestly.
Follow @BetCFL