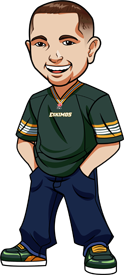 Written by Graeme on Tuesday, July 5th, 2016
Follow @BetCFL
We're batting 50% at the beginning of the CFL season with a record of 4-4 after the first 8 games.
Happy to be right around the middle because the beginning of the CFL season is always an unknown at the beginning. There is always a lot of changes so it can make it fairly difficult to predict and hopefully as the season goes we'll just get better and better.
So after 2 weeks, the BC Lions are leading the West with 2 wins out of 2. They followed up their week 1 win over Calgary with a dominant victory over Hamilton. Considering they were at 10.00 odds that's quite the start for them and will be interesting to see if it continues.
Blue Bombers are still batting .000 with a big loss against the Stampeders. 36-22 isn't really representative of the game either as Winnipeg weren't in it at all and Calgary basically stood around in the 4th and let them back in it. Winnipeg are also really slow starters and are going to have to sort themselves out soon.
So we move onto week 3. Here's the schedule for this week:
Thursday, July 7th: Winnipeg @ Hamilton, Toronto @ BC
Friday, July 8th: Calgary @ Ottawa, Saskatchewan @ Edmonton
Will be interesting to see if the Eskimos can get back on track. Let's get to this weeks CFL Tips:
Blue Bombers at Tiger-Cats:
The Winnipeg Blue Bombers are a whopping 10 points underdogs for this one. It's an interesting one though because the Tiger-Cats had that huge victory over Toronto then completely blew it last week – getting dominated by the BC Lions.
Last week was just one of those games where nothing goes right for a team – the Tiger-Cats true form was shown in week 1 and I think we'll see similar here. Winnipeg are slow to get going and I like the Tiger-Cats to take this game by the horns early.
Tiger-Cats -10.
Argonauts at Lions:
The point spread is 4.5 and I just can't see by the Lions here.
They looked tremendous against Hamilton. Their defense is really clicking and it was just an exceptional team performance. I just think Ray is going to struggle with them and we'll see a similar performance that he had in week 1. I'm taking Lions -4.5.
Bet the CFL at Bovada.
Stampeders at RedBlacks:
This one is an interesting one – there's no point spread. Bookies have it as a pickem.
I have to go with Calgary to win. II really enjoyed the performance of Trevor Harris last week but this is a big step up for them and I just see Calgary taking this one.
Stampders to win.
Roughriders at Eskimos:
Edmonton are coming off their bye week and will have had a lot of time to think about that tough loss to the Redblacks. Honestly I thought Saskatchewan had a great performance against the Argonauts and I liked seeing Durant back out there. This is going to be a big game for them and Chris Jones, and I'm happy to take the points in this one.
Roughriders +11.5
Bet the CFL at Bovada.
Follow @BetCFL