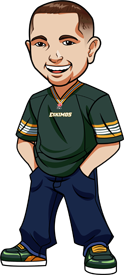 Written by Graeme on Thursday, September 1st, 2022
Follow @BetCFL
Welcome to Week 13 of the CFL season.
It was a 1-2 week last week unfortunately. The Redblacks got off to a big start against the Elks and despite a late rally, Edmonton couldn't come back. Arbuckle must have loved that.
Bombers got the win like expected but just couldn't cover the point spread. The Argos were able to get us the win as they covered against the Hamilton Tiger-Cats.
Let's look at Week 13. The Bombers and Lions are both running away with it in the West, while the East is sadly anyones game right now. The Argonauts are in the lead but are a. .500 team. Oh CFL how we love you.
Alouettes vs Redblacks Betting Tips:
Monreal are 4.5 pont favourites here at home. Ottawa however are a 0-5 home team but 2-3 road team and have that win to build on last week.
Making the playoffs is sadly do-able for the 2-8 Redblacks at this stage of the season, so they have that going for them. This is thus a massive game.
Montreal brought in the changed in a big way over the last week and they are looking to rely 100% on Trevor Harris going forward. I liked their pickup of Costigan.
Alouettes had the bye week last week. This will be a big test for them but I like them to do it and Harris to thrive. Alouettes -4.5
Roughriders vs Blue Bombers Betting Tips:
Winnipeg are 3.5 point favourites on the road here. They are 6-0 on the road. Saskatchewan are 6-5-0 for the season and 3-3 at home.
Winnipeg are just fantastic and they showed that against the Stampeders. Just the way they dig deep etc – they fight for every game. Fajardo will be a target this week and I just think Winnipeg are too good for them. Bombers -3.5
Tiger-Cats vs Argonauts Betting Tips:
Almost a pickem with Hamilton 1 point favourites. Argonauts are not a fan of the Labour Day Classic. These two are always putting up the points when they face each other. Gotta go with the data – nothing to say otherwise. Over 50pts.
Stampeders vs Elks Betting Tips:
Big point spread here that I don't want to touch with Stampeders 12.5 point favourites. No play for moi.
Follow @BetCFL