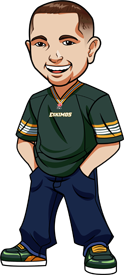 Written by Graeme on Thursday, September 15th, 2022
Follow @BetCFL
Welcome to Week 15 of the CFL.
We're getting close to the end of the season. The race in the West is quite close behind the Blue Bombers, with the Lions, Stamps and Roughriders all battling and with the crossover rule, it looks like all of them will likely make it.
Argonauts and Alouettes look to make it up from the East.
It was a 1-2 week last week. Riders were just ripped apart by the Bombers in a big way and the Lions were surprised by the Alouettes. Bye weeks man – sometimes they mess a team up.
Argos at least covered with a 24-19 win over the Redblacks.
Let's look at Week 15 just the three games:
Elks @ Roughriders Betting Tips:
Elks are 7 point dogs here. Their season is over. Saskatchewan are 4th and would like to improve that position. They come in off that big loss to the Bombers following a tight one.
I like them to get back on track here especially at home. They beat Edmonton 34-23 on the road last year. They have ANOTHER game against Winnipeg next time they play, and next week is a bye week so this is a crucial one for them.
I like Roughriders -7. Just a massive game for them because otherwise one of those East teams could really make ground on them.
Blue Bombers @ Tiger-Cats Betting Tips:
7.5 is the point spread for the Bombers here. Tiger-Cats are 3-9-0 and they really need a win. Their home form is decent at 3-3 but on the road they are 0-6.
Bombers are 7-0 on the road and I expect they win here but the question is by howe much? Dane Evans should be at the helm for Hamilton I expect. No bet on this one. I think it will be closer than expected but then on paper, Bombers destroy them.
Lions @ Stampeders Betting Tips:
Lions are 7 point dogs here. With Nathan Rouke out, the Lions don't look great. Last week the excuse was the QBs didn't know the playbook but man this is a team that has to be low on confidence while the Stampeders are rolling.
Stampders -7 until the Lions show the QBs are up to the task, it's best to fade 'em.
Follow @BetCFL