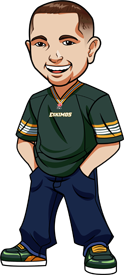 Written by Graeme on Saturday, November 11th, 2017
Follow @BetCFL
The CFL Division Semi-Finals take place this weekend with both games on Sunday, November 12th 2017.
The early game sees an actual East vs West game with the Ottawa Redblacks taking on the Saskatchewan Roughriders.
In the later game, the Winnipeg Blue Bombers go on to face the Edmonton Eskimos.
Both winners will then move onto next week where they face off against the Toronto Argonauts and Calgary Stampeders.
It's all coming to a head and we're excited for this.
I'm going to analyze both games and give my suggestions for what to bet in each:
Where To Bet the CFL Playoffs:
If you're looking to bet the CFL playoffs, the online sportsbooks we recommend the most are:
Best America Sportsbooks for CFL

Good deposit bonus, lot of unique bets & props. Excellent mobile & live betting.

Have the best odds the majority of the time

100% to $250 Deposit Bonus, sometimes have really good lines
Pick any of them and you'll be happy! Check all 3 to see what promotions they offer and what the best odds are.
Redblacks vs Roughriders Betting Tips:
The Ottawa Redblacks ended the season at 8-9-1 as they came 2nd in the East behind the 9-9 Argonauts. Not much separated them. The Roughriders were 4th in the West but get in due to how trashy the East is. They finished with a 10-8-0 record.
The Redblacks are at home and are 1.5 point favourites. Redblacks actually have a good ATS record at 12-6-0.
These two teams played on October 13th and the Redblacks won 33-32. Lindley was at QB then.
I've got to take Redblacks -1.5 here. I do have some concerns that Saskatchewan will be able to exploit the few weaknesses in the Ottawa defense, but I just love how damn good Harris has been this season in the games he has played.
I think where the big telling point will be Saskatchewan unable to get as many turnovers as they really need and that the Redblacks should take this one.
It's going to be a damn close game in my opinion though. I could see a 3 point finish with the game riding on a field goal.
For me the big thing is I can't back Glenn here either.
It could be a low scoring game too but with it being the playoffs all bets are off. I'd rather take the Ottawa Redblacks -1.5 here than the under.
Blue Bombers vs Eskimos Betting Tips:
I won't bother with the preview here.
Fact is Matt Nichols is apparently playing but the dude has a bad injury. That's going to affect them too much here. There is no way they can keep up to pace with this electric Edmonton Eskimos offense.
I'm really surprised that the line has stuck at -3 but you can tell it's getting close to -3.5. I'm going to jump on that one.
Major props to the Blue Bombers if they can pull this off but that would be a huge surprise in my opinion.
Eskimos -3 let's do eeeet.
Follow @BetCFL