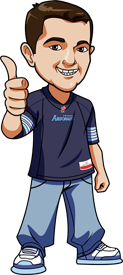 Written by Scott on Friday, September 19th, 2014
Follow @BetCFL
Another great week of CFL action as we are getting closer to the playoffs.
The Eskimos destroyed the Alouettes 33-16. Edmonton QB Mike Reilly had a great game throwing for 272 yards and rushing for two TDs on 55 yards.
It was the Stamps who made a comeback of sorts. After being down 29-10, Calgary scored 30 points in the second half to win 40-33.
Thanks to 12 points in the 2nd quarter and 10 in the 4th, the Lions were able to hold off the Blue Bombers winnings 26-9. With the win the Lions have now passed the Bombers on the West Division standings.
The Tigers-Cats showed the world that they can play with the best on the league when they beat the Rough Riders. 28-3 was the final score with Hamilton scoring first and consistently throughout.
Here's this weeks schedule
Friday, September 19th – Argonauts vs Lions @ 10:00 pm
Saturday, September 20th – Eskimos vs Tiger-Cats @ 7:00 pm
Sunday, September 21st – Stampeders vs Alouettes @ 1:00 pm, Redblacks vs Roughriders @ 4:00 pm
Gotta keep these short due to having no time.
Now onto the CfL Week 13 Betting Tips
Argonauts vs Lions Betting Tips
Chad Owens will be back in the lineup for the Argos which is great news for Argo fans.
But the Lions are playing some great football and with them being at home I see this going their way
Lions -6 at Bovada
Eskimos vs Tiger-Cats Betting Tips
Hamilton has been playing some amazing football
The Ticats are 2-0 at their new home so can they continue this trend?
Gotta like their chances to come away with the win here
Tiger-Cats -2.5 @ Bovada
Stampeders vs Alouettes Betting Tips
The number 1 team in the league against a much weaker team. What more can I say
Calgary -7 is the pick. Place bet at Bovada
Redblacks vs Roughriders Betting Tips
Ottawa has been bad all year where the Riders have been strong
I think this game will be closer then the odds would suggest.
Yes the Rough Riders will win this game. But I think the Redblacks will keep it working 10 points
So for that reason we are going with the Redblacks +10 @Bovada
Follow @BetCFL