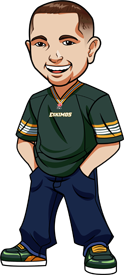 Written by Graeme on Monday, February 13th, 2017
Follow @BetCFL
I had a lot of good feedback to my last article – 5 Notable CFL Moments in 2016.
While everyone is busy looking at the CFL Free Agency period at the moment, I thought I'd take some time to look back at the 2016 season and find 5 more notable moments.
2016 was a crazy season and as I mentioned last time – I look at forums, reddit and Google metrics etc to see all of the big stories – both good and bad.
Here's 5 more notable moments in the 2016 CFL Year:
#1: The Drew Willy Trade
The Drew Willy trade was probably the biggest one of the season in the CFL. However everything attached to it was such a surprise – even though most expected the Willy trade, no-one expected the Kevin Glenn move.
It was a big story as TJ Heath was part of the trade and he was told on his birthday – right after the game. So it was quite an emotional time for him.
Amazingly after all that, Willy ended up not even being the starting QB on Week 18 as Ray took over. It'll be interesting to see how things go for him in 2017 but his move to the Argonauts was not an impressive start.
#2: CFL Viewership
The Grey Cup was a huge hit this year with 10 million Canadians watching. It was 3% up from last year and 7% up from the 18-34 demographic which is the important one. Online viewing was a big one in terms of the audience and hopefully the CFL are smart enough to realise that online streaming is just going to get bigger as time goes on.
What's great about that is everyone thought the game would be a blow out and it ended up being a thriller.
Hopefully that means there'll be more CFL fans next season.
#3: REDBLACKS Sell Out
The REDBLACKS are very early into their franchise but one cool thing is it looks like they are here to stay. After raising ticket prices they still managed to sell out EVERY GAME this season.
The fact that they were able to win the Grey Cup was really cool and with Ottawa hosting the 2017 Grey Cup – Ottawa is fast becoming a huge football city.
#4: This Beaverton Article
Toronto Argonauts unveil new mascot: An empty seat.
I still think about that every few days and just chuckle. It'll be interesting seeing how things go for the Argonauts next season.
#5: The Bombers Billboard Troll
This one actually just happened recently but man I love it. They took this billboard ad out in Regina: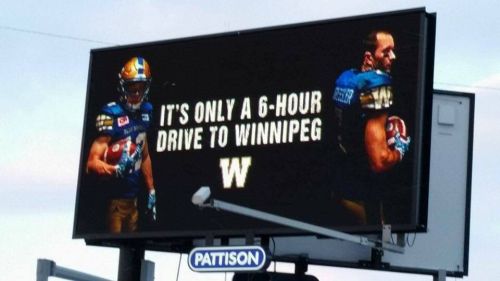 I love that sort of thing. it adds to the rivalry for teams but in a fun way. You see stuff like that in the NHL and NBA all the time. I mean hell the Stars scoreboard team are trolling a different team every night it seems.
That's the sort of thing we need more of and props to the Blue Bombers for that.
Follow @BetCFL