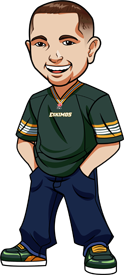 Written by Graeme on Saturday, January 7th, 2017
Follow @BetCFL
One thing I like to do at the end of the CFL season is take a look back at the most notable moments of the season.
This isn't just random highlights etc – what I do is I look at websites like reddit, and forums that talk about the CFL and I look at the most popular threads in the last year. I also study metrics via Google to see what people were most interested in etc.
It's always interesting to see what people are talking about and I do it for NHL, NFL, NBA etc. For example in NBA over the last 365 days, the biggest story is NOT the Cavs beating the Warriors, but Cousins and Embild having a nice little ass slapping competiton.
So without further ado 5 of the top CFL stories of the last 365 days:
#1: REDBLACKS = Grey Cup Champions
Obviously this is the biggest story of the year for so many reasons. The Stampeders had an absolutely incredible season so for them to lose in such a fashion is already a story. But for the Ottawa REDBLACKS to win it so early in their franchise? After finishing the season with a BELOW .500 record? That's absolutely amazing. The Redblacks, who went just 2-6-1 during the regular season, deserved that amazing victory and achievement.
#2: Miracle TD Catch
You rarely see many CFL highlights that actually deserve to be highlights – when the sports stations cover CFL you often get the impression they're doing it just because they feel obligated to.
But there was one highlight of this season which we saw again and again on not just the TSN stations but the likes of ESPN as well.
It was the insane no look touchdown from Ryan Smith for the Winnipeg Blue Bombers and man did he make it look easy.
#3: Murders
It was a bad year off the field for the CFL. Calgary Stampeders player Mylan Hicks was killed in a night club shooting in Calgary, and then Joe McKnight was killed in New Orleans in December. That was really sad as McKnight looked promising. In what was a real memorable season these were two sad points of the year.
#4: CFL Job Postings
This might not be a story a lot of you are aware of but the CFL tried to go the EXTREMELY cheap route – with a whole new internship scheme where all of their entry level employees wouldn't make a penny. All of their web developers etc would be replaced by "volunteers".
It was such a negative and nauseating thing but in 2016 you just can't get away with things like that. Thankfully the internet got on the case and Andrew Bucholtz, of 55 Yard Line Blog specifically, helped get awareness out and the CFL pulled the job postings.
Just an incredibly cheap move by the CFL which left a bad taste in a lot of peoples mouths.
#5: This Interview
I remember seeing this a few months ago and I still just burst out laughing so hard all these months later.
Click here fo rit.
Follow @BetCFL