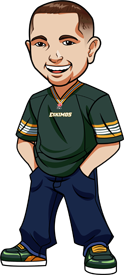 Written by Graeme on Friday, September 27th, 2013
Follow @BetCFL
With not too long to go until the end of the CFL 2013 regular season, every game is crucial. None moreso than when the Hamilton Tiger-Cats host the Calgary Stampeders this weekend.
The Stampeders have already clinched a playoff spot, but that isn't enough. They know that they want to win the division. Unfortunately for Calgary, last week they took their foot off the gas and paid the result, with the Argonauts defeating them 33-27 in a thriller. We've said before that we can see an Argonauts vs Stampeders Grey Cup, and after a great game like that we're hoping that is the case.
Hamilton meanwhile, need to get their ass in gear! They did just that last week with a huge win over the Alouettes. The Tiger-Cats walked out of that one with a big 28-26 win which condemned the Alouettes to a season without playoffs. Hamilton need to get a huge run in their next few games, although it isn't going to be easy. The Argonauts on the road are next, then again at home.
So let's check out the betting odds for this game:
Calgary Stampeders vs Hamilton Tiger-Cats Betting Odds:
Point Spread: Stampeders +2 vs Tiger-Cats -2.
Over/Under: 56.5 points.
No doubt, the sportsbooks are expecting this to be a tight game. I spoke to our CFL Linesmaker who says it is very even when it comes to betting, with Calgary getting about 55% of the action. And as they should – they ARE the better team.
Despite that – I'm going to be recommending you bet the Tiger-Cats -2 at Bovada.
Why? Let's get into that after the break….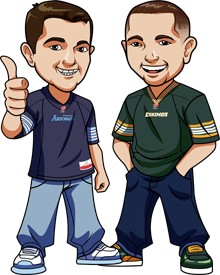 Quick note for people from United States: Be sure to subscribe to our weekly CFL tips, because not only will you get the tips e-mailed to you every week but we're working on some special mailing list exclusive bonuses and free bets only for people from United States.

Enter your email address to subscribe to weekly CFL Tips for free:

Calgary Stampeders vs Hamilton Tiger-Cats Betting Tips:
These two teams matched up in week 12, in Calgary. That was a very tight one that the Stampeders just squeaked out, winning 26-22. That was the only time the teams have played against each other so far this season. The Tiger-Cats showed that they can go toe-to-toe with Calgary. The Stampeders have a very sturdy home record of 5 wins in 6 games, but Hamilton came extremely close to adding another loss to that record.
In that game, Calgary were inspired and motivated knowing they could clinch a playoff spot. Although winning the division is important – they're still not going to be going out balls to the wall in this game. Then there's Hamilton – this is their Grey Cup. They need this win. With back to back games against the Argonauts Hamilton absolutely NEED to be going into that game on the back of a win here.
I believe they can do it.
Calgarys two main weapons are starting the first quarter strong, and rushing. However they're going up against one of the best teams in the leagues when it comes to blocking the run. While Hamilton can't shut them down completely they should be able to stifle the Stampeders run to about 100 points in this game.
Hamilton meanwhile can pass the ball, and are one of the best passers in the league. They're #1 for passing yards and yards per pass, while the Stampeders defense is average against the pass.
Honestly, I think the point spread for this one is way too low. If I was setting it I'd go for a 6.5-7 point spread. I can see the Tiger-Cats picking up the win by 10 points in this one.
So head on over to Bovada and bet the Tiger-Cats. I don't think they'll make the playoffs. That double header against the Argonauts will kill them. But this is still a great spot for them to pick up a win and give them confidence.
Follow @BetCFL