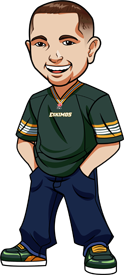 Written by Graeme on Wednesday, September 19th, 2018
Follow @BetCFL
We continued our incredible winning run with an excellent 2-1 week in the CFL. It's been a great couple of months and our winningest season to date. Hopefully we can keep the run going.
Our loss was with the Alouettes when the bye week killed their momentum. They actually looked good and for the longest time looked like they would cover the spread of +3 or hell even win the game. The BC QB getting injured helped that for sure. Alas they just tired out at the end it looked like and the BC Lions ended up making it look like a much more convincing victory than it was.
We had Stampeders vs Tiger-Cats to go Over 51.5 points. That was a nice and easy one as the Stampeders bounced back strong and won 43-28 in a nice high scoring affair.
Finally we had Redblacks +4 and didn't even need the points. Saskatchewan have been impressive lately but we just felt Ottawa would stop their run or at least keep it close. Ottawa ran out winners and made it another winning week for us.
We are now onto Week 15. The Stampeders are of course top and clear in the West but all 4 other teams are still in it. Looks like just one of those teams will miss out.
In the East Ottawa and Hamilton have pulled away and are in the playoffs. Toronto and Montreal are most likely at that stage where they're already planning out next season bar a miracle.
What's really noteworthy is just how stronger home performances of all – well – most teams except Montreal are this season.
Let's get to it:
Alouettes vs Blue Bombers Betting Tips
Johnny Manziel makes his return to the CFL after his injury as the Montreal Alouettes head to the struggling Blue Bombers in Winnipeg. The sportsbooks don't have much faith in Manziel however with the point spread at Alouettes +10.5.
These two teams faced off in Week 2 where Winnipeg ran out winners in a big way.
Honestly I liked what the Alouettes were doing prior to the bye week. I felt that while Pipkin played poor last week, Montreal still held it close. I think Montreal lose this one but more by a touchdown. If the Bombers come out of the bye week ridiculously confident and motivated then so be it. However Johnny Football has had a longer time to learn the playbook and with the season wrapping up he only has a few shorts weeks to cement his place as the starter.
Eskimos vs Redblacks Betting Tips
Eskimos go into this one as slight favourites. Eskimos are -2.5 in this road game.
However I love what Ottawa did last week with that big win over Saskatchewan so it makes for a real interesting game.
It makes for a real interesting one that's for sure. Edmonton are battling for that home playoff spot and we saw their performances against Calgary and how good they are.
Slightly concerned about the bye week but I gotta go with the better team.
Roughriders vs Argonauts Betting Tips
The Roughriders hit a real road bump last week but I'm happy with that due to the opening line of Roughriders -3.
Toronto just look terrible this season and with things still up in the air over in the West, I think Saskatchewan bounce back strong.
Tiger-Cats vs Lions Betting Tips
No spread for this one yet. I'm most likely going to take Tiger-Cats as even without Brandon they are still showing they have what it takes offensively. Will try and update when the line is released.
Follow @BetCFL