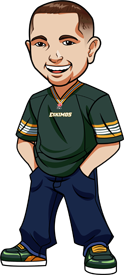 Written by Graeme on Tuesday, September 27th, 2016
A disappointing week last week as we went 1-3. After so many winning weeks it's tough to have back to back losing weeks.
We thought the Argonauts vs Redblacks game would be a tight one but sadly it really wasn't with the Redblacks winning it in dominant fashion.
The Eskimos put in a tremendous performance to beat the B.C. Lions. That makes things extremely interesting in the West because it looked like the Stampeders and Lions might just run away with it. Now there are still 3 teams in the picture along with the Stampeders although BC still have to be favourite for that 2nd place.
We correctly predicted the Blue Bombers vs Stampeders being a close one – and we got it right stating that the Stampeders would win, but the Blue Bombers would keep it close. it ended up being an awesome game but Calgary show their strengths to beat a maurading Blue Bombers team.
Finally the Roughriders made it two in a row with a big win over Hamilton. The East is just a cesspool at the moment but Hamilton remain in 2nd place with a 6-7-0 record.
Let's look toward this weeks games:
Best America Sportsbooks for CFL
Eskimos vs Blue Bombers Betting Tips:
The Eskimos go into this one as 3.5 point favourites. They're coming in off the big win over the Lions while the Blue Bombers are coming in off that tough loss to the Stampeders.
I think the Blue Bombers are going to be on a low after last week while the Eskimos will have some self belief – so the mental game is good for Edmonton. The Eskimos have been a bit disappointong on the road but I think their passing game will be too strong for Winnipeg. I also really liked the defense for the Eskimos last week and think they'll step up even more this week.
I'm taking Eskimos +3.5.
Stampeders vs Tiger-Cats Betting Tips:
Calgary are the favourites but only by 3 points. First of all I think Calgary would win regardless – but this situation with Mylan Hicks? Man – that's going to push Calgary on. The Stampeders are at that spot where you have to wonder how they can find the motivation to keep going and that they're ready to slip up.
But I just don't see it due to the Hicks situation and I think that will be some deep motivation for Calgary. Plus hell they're Calgary – regardless of that situation I think they'd walk all over Hamilton.
Stampders -3.
Best America Sportsbooks for CFL
Redblacks vs Lions Betting Tips:
The Redblacks will be hoping to continue their form after last weeks win over Toronto while the Lions will be hoping to get back on track. Ottawa come into this game as 5.5 point underdogs. BC beat the Redblacks 29-23 a month ago and I see a similar game and result. I think Jennings will bounce back after those two picks and that was the difference maker against the Eskimos.
Lions -5.5
Argonauts vs Alouettes Betting Tips:
It's the coaching debut for Jacques Chapdelaine and it'd be huge for him to get a win here. Montreal obviously had to make a change. What's amazing is despite how bad Montreal are they could still make the playoffs. All it takes is a few wins.
I'm a sucker for a coaching change. I'm going to take Alouettes -3.
Bet the CFL at Bovada for Americans and Sports Interaction for everyone else.
[social]