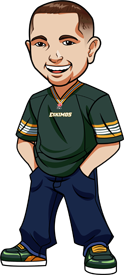 Written by Graeme on Thursday, July 21st, 2022
Follow @BetCFL
An unfortunate 1-3 for Scott last week.
The lone win was the Redblacks +5.5. That one was called correctly as Scott felt the Ticats would win, but the Redblacks would cover the spread. That happened as Hamilton only won by 2.
He was very unlucky with Stampeders vs Blue Bombers. Over 45.5 and that one came to 45 points.
Alouettes -7.5 but the Elks got a hard fought win in that one and their 2nd win of the season.
Riders were a surprise loss to the Argonauts.
Let's look at this week:
Alouettes at Redblacks Betting Tips:
The Redblacks are 2.5 point favourites in this one. Ottawa are 0-5 for the season. Alouettes are 1-4 with the lone win over Saskatchewan.
I like both these teams to put up points this week. Ottawa will see this as a winnable game and Montreal defense should let them score a fair amount.
Over 48pts
Tiger-Cats at Lions Betting Tips:
Big underdogs here are Hamilton, who are getting 10.5 points on the spread. Lions coming off a bye week. That's always concerning for me as I feel that can affect a team.
I was correct in Bombers +3.5 against Lions last time out as I knew it was a big step up in defense. Hamilton though have a bad defence and the Lions should take advantage of that.
Hamilton have a bit of momentum having snagged a win. Lions missing Lokombo.
I can't make a call in this one. Hamiltons defense – BC should take em out. But the point spread is a bit too high for me especially with Hamlton coming off the win. No Bet.
Blue Bombers @ Elks Betting Tips:
The Elks despite their win last week, are 8 point underdogs at home. The Bombers defense should have no issues with the Elks. The problem is their offense doesn't get going as much as you'd like. There have been a lot of close games.
Elks have had a couple of blow out losses. But until this WInnipeg team is able to really put the points on the board, I gotta go with Elks +8.
Argonauts @ Roughriders Betting Tips:
After the win last week, the Argonauts are just 3 point dogs to Saskatchewan. Toronto are top of the East with a .500 record. Roughriders are 4-2 for the season but are 3-0 at home.
I like Saskatchewan to keep up their perfect home record and get the win here. Simple as that. Betting odds on the moneyline are fine but I'll go with Riders -3.
Follow @BetCFL