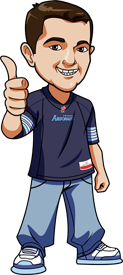 Written by Scott on Thursday, August 21st, 2014
Follow @BetCFL
Great week of CFL action but the complete opposite when talking about the tips. We had a miserable week going 1-3.
The Eskimos won against the Redblacks in what turned out to be a much closer game then expected with the final score 10-8. Ottawa held a 8-4 lead heading into the second half but with 20 seconds left in the game Eskies Grant Shaw kicked a 27 yard field goal to win it for Edmonton.
The Stampeders beat the Tiger-Cats 30-20. This was another good game where the Ticats had it within three points until Stamps Drew Tate scored with 34 seconds left to seal the win for Calgary. With the Eskimos & Stampeders both winning, they remain tied for first in both the West Division and the CFL with 6-1 records.
The Rough Riders pushed their winning streak to 4 games with their 16-11 win over the Alouettes. Riders defensive lineman John Chick added three more sacks to his league-leading total which now sits at 12, 5 ahead of the second place Bowman of Montreal.
The B.C Lions took advantage of a tired Argonauts squad and came out on top 33-17. The Lions scored first and lead the entire game highlighted by the 20 points the Lions put up in the 4th quarter.
Ok now let's have a look at the Week 9 CFL schedule.
Friday, August 22nd: Alouettes vs Blue Bombers @ 8:30pm
Saturday, August 23rd: Argonauts vs Eskimos @ 4:00pm
Sunday, August 24th: Stampeders vs Redblacks @ 3:00pm, Rough Riders vs Lions @ 7:00pm
Ok now onto the tips and let's make last week's tips a distant memory with a nice winning week.
Alouettes vs Blue Bomber Betting Tips
Montreal is currently on a 5 game losing streak and they get to square off with a strong Blue Bombers team in week 9.
Thanks to the injury to Troy Smith the Als now are going with Alex Brink at QB. Montreal has had a rough time this season and it was expected with the retirement of Anthony Calvillo but not sure that anyone saw them having this bad of a year
Winnipeg is fighting for first in the West and has had 9 days off to get ready for this game and they are playing at home so it looks like the Als streak of losses will continue.
Bet the Blue Bombers -7.5 at Sports Interaction
Argonauts vs Eskimos Betting Tips
Edmonton was lucky to come away with the win last week against Ottawa. I expect a much better performance from them in this game.
The Argos played twice last week and came out of the week 1-1 and are still in first place in the East Division.
Toronto will not be playing at home until October 4th and face some tough competition up until that point.
But we have to go with the Eskimos in this game where they will be looking to have a much better effort then they did last week
Bet the Edmonton Eskimos -7.5
Stampeders vs Redblacks Betting Tips
Wow. What is there to say about this one?
I got nothing. So let's go with the obvious choice here
Stampeders -8.5 at Sports Interaction
Rough Riders vs Lions Betting Tips
Potential for game of the week here.
Two winning streaks collide in this one with the Riders on a 4 game winning streak and the Lions a 3 game streak.
The Lions looked amazing last week and you have to wonder if that momentum will carry over and have much effect in this matchup.
The Rough Riders are a great team that win thanks to its defense. But the Lions have a strong offense so this game will be close
Gotta go with the Lions -2.5 at Sports Interaction
Follow @BetCFL