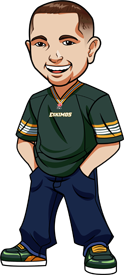 Written by Graeme on Friday, September 6th, 2013
Follow @BetCFL
Week 11 of the CFL kicks off Friday, September 6th, with the Calgary Stampeders taking on the Edmonton Eskimos.
This is a repeat of last week, where the Stampeders played the Eskimos in Calgary. It was a very tight game, with the Stampeders winning by just 3 points. Calgary won 37-34 in a thriller.
If you followed Scotts tips last week then you were in the money, because Scott tipped the Eskimos +8 and they of course covered that line.
Of course it looked scary for awhile. Calgary had a 30 point lead heading into the last quarter – but the Eskimos did what they've did all season and kept the game close with a huge surge at the end.
So the point spread for that one was 8 points. What will it be this week? Let's check in with Bovada and see the lines:
Stampeders vs Eskimos Betting Odds:
Point Spread: Stampeders -3, Eskimos +3.
Over/Under: 56.5 points.
A very interesting line. Calgary are close favourites in this one. We checked with our CFL Linesmaker, who said most of the money(about 70%) is going on the Stampeders to cover the spread. 80% is going on Over 56.5.
I'm going to tip the Eskimos +3 this week. So bet Eskimos +3 at Bovada.
Why? Well let's read on….
Stampeders vs Eskimos Betting Tips:
Everything we said last week rings true here – the Eskimos have shown over the season they can keep games close. Mike Reilly is surging and looking better by the week.
The Eskimos are going to go into this game with a lot of momentum after destroying the Stampeders in the 4th quarter. They know after that they have the ability to win. And while Calgary are one of the top CFL teams, their road record is very shaky. They have lost 2 out of 3 games on the road. Sure, that was against the Lions and the Roughriders – but this is a tough game to play after last weeks 4th quarter drubbing.
Edmonton match up well with Calgary, and the Stampeders QB situation is a bit of a mess. It's looking like Bo Levi Mitchell will start this week and while he looked decent last week, starting is a whole different thing. He came into the game with a lot of momentum already, and while he picked up 2 TD passes a full game is a whole different ball game.
Edmonton will be going into this game more focused than ever. After 7 sacks against Reilly last week they're going to make sure that doesn't happen again. That's going to be priority #1 for them – and even with 7 sacks, Edmonton still kept it close. If they can just cut down the sacks, Edmonton can pick up their first home win of the season.
Back the Edmonton Eskimos to cover the point spread. Personally, I think they will get their first home win of the season but at the very least let's play it save and take the extra points. Get the $200 bonus available this week only at Bovada.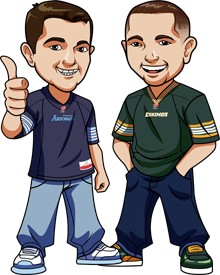 Quick note for people from United States: Be sure to subscribe to our weekly CFL tips, because not only will you get the tips e-mailed to you every week but we're working on some special mailing list exclusive bonuses and free bets only for people from United States.

Enter your email address to subscribe to weekly CFL Tips for free:

Follow @BetCFL