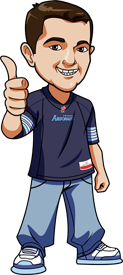 Written by Scott on Wednesday, October 4th, 2017
Follow @BetCFL
We had a good week last week as we went 2-1 with the tips.
We went with the Stampeders -17.5 against the Alouettes and this seemed like a crazy spread but we still went with it.  The Stamps won big in this one easily covering the spread 59-11.  They won by 48 points.  Wow
Our other win of the week was Over 50 in the Argonauts be Tiger-Cats game.  This game needed OT but it went over for us hitting 78 when the Argos won 43-35.
The loss for the week was our tip of the Roughriders -3 against the Redblacks.  The Riders win but only by one point 18-17.
The other game of the week was Blue Bombers vs the Eskimos.  The Eskies were coming off of a bye week so it was tricky to predict this game. The Bombers won 28-19.
The end of the season is fast approaching and I can't believe it.  Let's get to the Week 16 CFL betting tips
Tiger-Cats vs Blue Bombers  Betting Tips
As its been for most of the season it's hard to back the Tiger-Cats.
The Blue Bombers come into this game on a 3 game win streak.
These teams played each other on August 12th and it was Winnipeg winning 39-12.
The Bombers have had a great season and sit in 2nd place in the West.  The Ticats have struggled and I dont see that changing in this game.
Blue Bombers -13.5
Roughriders vs Argonauts Betting Tips
Another game where I have to think that the team on the winning streak will continue that.
The Argos have a good record at home on the season going 5-2.  They last played each other on July 29th where the Riders came away with the 38-27 win.  I expect the Argos to get some revenge.
Argonauts -1.5
Redblacks vs Lions Betting Tips
This game has the Redblacks as the underdogs but I'm not sure I agree with that.
The Lions have been decent at times this season but they don't have a great home record this season going 3-3.
Ottawa is in 2nd in the East and still have a shot at reaching 1st.  The Lions are in 5th in the West and have a long way to go to gain any ground in the standings
Redblacks +4.5
Eskimos vs Alouettes Betting Tips
A battle of 2 teams on bad losing streaks.  The Eskimos have lost their last 6 in a row and the Alouettes have lost the last 7.
The Eskimos are favored to win this game and I can't argue that but it's the spread that has me off of it.
I would like to think that Montreal will at least keep it close.  The last game was won by the Eskies but only by 4 points.  With the way both teams have been playing I'm going to go with the home team who has the points
Alouettes +7
Bovada is your home for betting on the CFL
Follow @BetCFL