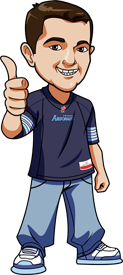 Written by Scott on Wednesday, July 23rd, 2014
Follow @BetCFL
That wasn't what we expected. It was some great CFL action but their scoring was down for what we are used to.
The Eskimos defense led the way in their 26-3 win over the Blue Bombers. The Eskimos remain undefeated and have now moved to the top of not only the West Division but the entire CFL.
The Ottawa REDBLACKS, playing in their first game at TD Place, managed to pick up their first win in franchise history. This was an incredible game and what a finish. With 1:33 left in the game, Ottawa QB Henry Burris took over. He completed a 45 yard pass to set up a 23 yard field goal to put them ahead.
The Calgary Stampeders remain undefeated after they came out on top of the Hamilton Tiger-Cats 10-7. This was a defensive battle and the game was still up for grabs right until the end. Hamilton has yet to pick up a win this season.
The highest scoring game of the week came when the B.C Lions pounded the Montreal Alouettes 41-5. Lions wide receiver Emmanuel Arceneaux was unstoppable. After missing a bunch of time, dating back to training camp, he finished the day with 8 receptions for 145 yards and 3 touchdowns. The Lions were more than able to gain some payback over the Als after their week 2 win against the Lions
Ok so here we are, already into week 5 and with a quick look at the standings the West Division is looking like the far superior division up to this point but there is plenty of football left.
Here is the schedule for this week's CFL action:
Thursday, July 24th: Stampeders vs Eskimos @ 9:00pm ET
Friday, July 25th: Blue Bombers vs Lions @ 10:00pm ET
Saturday, July 26th: REDBLACKS vs Tiger-Cats @ 7:00pm ET, Argonauts vs Roughriders @ 10:00pm ET
Let's get to the betting tips for Week 5 of the 2014 CFL Season
Stampeders vs Eskimos Betting Tips
This is going to be just an amazing game. Not only is it the battle of Alberta but both of these teams are undefeated and there will only be one left after this tilt.
The Eskimos defense has been able to have their way up until this point and could face their first real test of the season. The Stamps D is no push over either and this game will come down to who's plays better on Thursday. Mike Reilly vs Bo Levi Mitchell, this is going to be awesome.
This is really tough to predict as these are the best teams in the CFL, but we have to go with the Eskimos at home to move to 5-0
Bet the Eskimos +1.5 for 1.91 odds at Bovada
Blue Bombers vs Lions Betting Tips
This will be another game that is a can't miss matchup. The Lions are fresh off of their 41-3 pounding they laid on the Alouettes while the Bombers are coming off of their worst performance of the season when they lost to the Eskimos 26-3.
The Bombers had a bad game last week and are a much better team than that game would suggest. The Sportsbooks have this game going the Lions way. The Lions currently sit with a -9 spread
I like the Lions to win this game but not by 9 points, I think it will end up being a close game. So for that reason we are going to go with Winnipeg +9 at Bovada
REDBLACKS vs Tiger-Cats Betting Tips
The Ticats first home game of the season will not be played at their home stadium but instead will take place at McMaster Stadium as Hamilton's new stadium isn't yet completed.
Ottawa picked up their first win of the season last week while Hamilton has yet to pick up a W.
But they are a better team than what we have seen and I think they pick up their first win of the season. It's just unfortunate that it won't be at their new home. But a wins a win
Going with the Hamilton Tiger-Cats -5.5
Argonauts vs Roughriders Betting Tips
In their first meeting of the season during week 2, the Toronto Argonauts destroyed the Rough Riders 48-15. Argos QB Ricky Ray went off for 400 yards and 3 TDs thanks to a healthy wide receiver corps.
But with 3 of the Argos top wide outs injured, (Chad Owens, Andre Durie and Jason Barnes) things will be different this time around.
The Riders have had a week off to regain their health and composure and will be looking for some payback from week 2. The defending Champs have had a bad start and this could be the game where they turn their season around.
Riders -7 is our tip and I think the home team is going to have a big game which sucks being that I'm an Argo fan.
Place all of your bets at Bovada
Follow @BetCFL