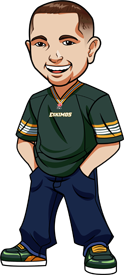 Written by Graeme on Wednesday, August 17th, 2016
Follow @BetCFL
It was a nice winning week last week with the free CFL Betting Tips..
It started off great with the Eskimos -7 and they beat the Alouettes by 11 points. It was a big 4th quarter by the Eskimos to get us that win and it was a nice one.
We went 2-0 with the Blue Bombers vs Argonauts game going over 50 points. Again we relied on a big 4th quarter there with 21 points scored in that. The end result was it went over by 1 point and that was good enough for us!
Saturday saw us go 1-1. We had the Stampeders -6 and they did the business in Saskatchewan. They looked dominant in that one and got the win 19-10.
Unfortunately we had a loss in the Hamilton vs B.C. game. We had TiCats +3 but despite a good second half comeback it wasn't enough for Hamilton. The Lions did a great job in the first half to take a 32-12 lead and although Hamilton chopped away at it they couldn't quite eliminate it.
We're on to Week 9 in the CFL, and let's get to the betting tips for that one:
Alouettes vs Redblacks Betting Tips:
The Alouettes go into this one as 9.5 point underdogs. These two teams faced off back in Week 2 in Montreal with the Redblacks winning 28-13. Ottawa come into this off a bye week while Montreal come in after that tough loss to the Eskimos.
To be honest I'm a bit wary of Ottawa and their home form. However the Alouettes are going to be missing Duron Carter. Unfortunately I'm writing this before the decision is in on whether Carter is playing. While he isn't exactly a game changer he IS the star receiver on the Alouettes offense.
However i think the Redblacks have enough to contain the Alouettes regardless of whether Carter plays or not. I'd wait to see if Carter is in though – if he does the line may drop.
Bet the CFL at Bovada.
Stampeders vs Lions Betting Tips:
The Stampeders go into this one as 3 point underdogs. The bookies are obviously giving the B.C. Lions some respect after the awy they have been playing. I have to admit I'm impressed with the Lions as well but I can't get caught up on that yet. Calgary have looked solid and even when the Riders showed up like they did last week, they showed their ability to handle something like that and grinded out the result. I'm going to stick with Stampders +3 on this one.
Bet the CFL at Bovada.
Eskimos vs Argonauts Betting Tips:
The Eskimos are 3.5 favourites as they head to Toronto to take on the Argonauts. Toronto have a perfect road record but have struggled at home thus far.
I'm going to call for a Toronto win here but I'll take the points. Argonauts +3.5. Kilgore had a bad showing last time out but he's still a decent enough QB and I don't think he'll have as much of a nightmare here.
Bet the CFL at Bovada.
Roughriders vs Tiger Cats Betting Tips:
Have to kick a team while they're down. Tiger Cats -10.
Bet the CFL at Bovada.
Follow @BetCFL