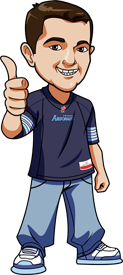 Written by Scott on Wednesday, November 14th, 2018
First things first.  I dropped the ball last week.  Between work and other personnel happenings I forgot to post the tips.  I'm sorry for that.
So here we are at the Division Championships.
For the East final we have the Tiger-Cats vs the Redblacks.  In the West it's the Blue Bombers vs the Stampeders.
Ottawa and Calgary earned byes in the first week of the playoffs so they have been able analyze their upcoming games and get some much needed rest.
For Hamilton to get here they first had to take on the Lions.  They scored first and often and completely destroyed B.C winning 48-8.  Winnipeg didn't have such an easy game to get here but they did win when they beat the Roughriders 23-18.  A big controversial hit on Riders QB Brandon Bridge was a huge turning point in the game.  The Riders carried one in with 2:30 left but it wasnt enough.
Alright let's get to the games.  After this weekend we move onto the Grey Cup.
Best America Sportsbooks for CFL
Tiger-Cats vs Redblacks Betting Tips
The Redblacks swept the season series against the Ticats winning all 3 games.
The Redblacks had last week off after earning a bye.  Before that though they had won 3 in a row.  I have to wonder if that bye will hurt or help them?  They had been playing great winning three in a row and I hope for their sake that it doesnt kill any momentum they gained.
With the way Hamilton destroyed the Lions last week I have to think that the momentum gained in that game will go a long way for them in this one.  And if Ric Flair is there to get them pumped up again then why not.
I expect this to be a good close game so I'll be taking the team with the points and the momentum.  WOOOO!!
Tiger-Cats +4
Blue Bombers vs Stampeders Betting Tips
These teams split the season series winning a game each.
This one is going to be a great game.
For the Bombers to have any success in this game they will need to have Andrew Harris have a big game and how effective he is will go a long way towards their success.
Calgary has a career home playoff record of 34-20.  Sure down the stretch they lost a couple of games but still ended the season ranked first in the West and the league.  They did have a 7 game win streak to start the season so this is still the team to beat.
The Stamps have the best defense in the league and I think that's where this game will be decided.
Stampeders -5
Best America Sportsbooks for CFL
[social]