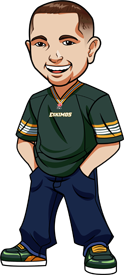 Written by Graeme on Thursday, July 12th, 2018
Follow @BetCFL
Another 2-2 week with the CFL Betting Tips.
Our two wins were with the Redblacks and the Blue Bombers. We didn't buy into the Alouettes even though they got that Roughriders victory and so went with Ottawa -6. The Redblacks won by 10.
We also had Blue Bombers -3.5 and that was a nice easy one as Winnipeg cleaned their clocks and won 41-19.
Our losses were with backing the Tiger-Cats and the Eskimos. We backed Hamilton thinking Saskatchewan would still be struggling but they surprisingly bounced back with a big 18-13 win.
We also had the Eskimos as we backed against the QB. That didn't pan out as the winless Argos picked up their first win of the season.
Let's get to this week. The Redblacks lead the East and the Stampeders lead the West currently. Every team in the CFL has logged at least one win which is nice.
It's a short week with just three games on the board.
Stampeders vs Redblacks Betting Tips:
The Stampeders go into this one as just a 3.5 point favourite. The Stampeders thumped them 24-14 in Week 3.
I must admit I see a similar result – I think the Stampeders are still just a league ahead. Everyone else is vying for "2nd best".
The Stampeders defense looks incredible and their offense is excellent. Their turnover ability is tremendous and the only negative is they're coming off a bye week. Never know how things will do there but at least they will be rested.
The thing is it's not like Ottawa were bad in the last game. It was close for most of the game but if you make mistakes the Stampeders are there and that's what happened in the game 2 weeks ago.
Calgary are the better side and should win this one.
Stampeders -3.5 is the play.
Argonauts vs Eskimos Betting Tips:
Despite last weeks win the Toronto Argonauts are 7.5 point underdogs.
Good reason for that. Eskimos looked good. Their only issues seemed to be in the red zone which is where they struggled. Their offense is still one of the best and I back them to return to business this week.
Eskimos -7.5 is the play.
Blue Bombers vs Lions Betting Tips:
No odds up yet on this one I waited until Thursday hoping they'd be up but no dice. I'll try and update this when the lines are up.
And hey with the World Cup Final coming up this weekend, be sure to check out my soccer betting tips at BetSoccer.ca.
Follow @BetCFL