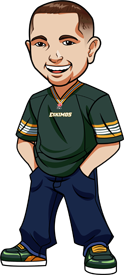 Written by Graeme on Wednesday, October 17th, 2018
Follow @BetCFL
Just 3 weeks left of the 2018 CFL Regular Season and 4 out of the 6 playoff spots are determined.
In the East, the Ottawa Redblacks and the Hamilton Tiger-Cats have locked things up. The Montreal Alouettes and Toronto Argonauts are both mathematically eliminated. What a miserable season from the Argos.
The team who advanced to the divisional final however is still up in the air with both teams on 8-7-0 records.
In the West, the Calgary Stampeders and Saskatchewan Roughriders have both clinched with the Stampeders going to the divisional finals. I mean I think the Roughriders could do that too mathematically but there's like a 0.0000001% chance of that.
It's still wide open between Winnipeg, BC and Edmonton with all 3 able to pick up the two qualification spots still up for grabs.
It was a 1-2 week for the betting tips. We knew the Tiger-Cats would want to keep the pressure on Ottawa and they did that with a 34-20 win, covering the 7 point spread. We thought we'd see a better performance from the Redblacks but it was the Eskimos for the win and the 3.5 points we took with Ottawa wasn't enough.
We also expected a close game and even a Riders win against Winnipeg but they were shut out 31-0. To make things worse the Roughriders have announced that Brooks and Bladek are both out for the season. They're also of course missing Clark and that's brutal.
Let's get on with the CFL Tips this week:
Tiger-Cats vs Redblacks Betting Tips
What a game this will be and the sportsbooks have it as a coinflip. The Nissan Titan Power Rankings has amazingly put the Tiger-Cats at #1 over the Stampeders.
No arguments about their offense. Redblacks I feel are the better team but they have been so inconsistent when they could be so solid. I think they get it together here and even though it's tempting to chicken out with no pick in this tight one I'm going with:
Eskimos vs Lions Betting Tips
Another massive game and the Eskimos are 2 point underdogs.
I've been disappointed in the Eskimos a lot lately but I was very happy to see what they did against Ottawa. Their offense looked absolutely incredible and honestly if they play like that every week they can win the cup. Crap man give me Eskimos vs Tiger-Cats with them playing like that – over/under will be 200 points.
Hopefully they keep rolling and I think the Lions are doing a lot too. I'm going with:
Montreal Alouettes vs Toronto Argonauts Betting Tips
Ya know despite both teams standings they still aren't giving up and I respect that. Now they are both mathematically out I think we can see them trying to finish strong. Won't be able to count these two out.
When I looked at this I thought Alouettes would have a chance so to see them getting more than a field goal? I'm down.
Roughriders vs Stampeders Betting Tips
Stampeders would love nothing more than to clinch the division at home against their closest rivals and really put a STAMP on things. Pardon the pun.
Roughriders are beaten up and have a lot of injuries and honestly I don't see a bounce back week from them this week. I think they're in the playoffs, they're happy with that and they're going to take it nice and easy and just try and remain healthy.
I know the Stampeders have their issues too with losing at home to the Lions and that tight win over Montreal but I've got to think the ytake it here.
Follow @BetCFL