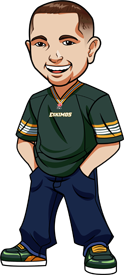 Written by Graeme on Tuesday, June 11th, 2019
Follow @BetCFL
The 2019 CFL Season is upon us, and with that comes betting tips for the entire CFL regular season plus the playoffs.
If you haven't visited before here's the drill – it's ran by me and Scott. We're big CFL fans and have been betting and tipping the CFL for years now.
We discuss the games together and then one of us writes up the betting tips that week.
If you're looking for the best sportsbook for the CFL, we recommend this sportsbook.
For the 2019 season, the Calgary Stampeders are the favourites. What a shock. However the BC Lions are close behind them with the Winnipeg Blue Bombers next in line.
The Hamilton Tiger-Cats are the favourites from the East side of things but alas it looks to be another season of the East just being a disaster. Let's hope not.
Let's get on with the tips:
Roughriders vs Tiger-Cats Betting Tips:
The Tiger-Cats are -2.5 favourites with the over/under at 48.5.
The Roughriders have their new coach in Craig Dickenson and he will be under pressure right away to fill the shows of Chris Jones. They'll be hoping Collaros remains healthy for the season. Losing Willie Jefferson will be tough.
Not too many changes from the Tiger-Cats on the field. They were 8-10 last year but I am looking forward to seeing how Masoli performs. He was a beast last year.
I think Jeremiah Masoli continues where he left off last season. I think Hamilton will be a much more cohesive team and it will take time for Saskatchewan to get going. I think we see a couple of losses for them to kickstart the season.
I'm taking the Tiger-Cats -2.5.
Alouettes vs Eskimos Betting Tips:
The Eskimos are 10 point favourites, with the over/under at 52 points.
The Alouettes look like they have another rough season ahead of them. If you're an Alouette fan there really isn't much to look forward to. They just recently lost coach Mike Sherman which was crazy and they just look a mess.
Alouettes just seem like a team in disarray and I think the Eskimos can take them apart.
Eskimos -10 is my play. Bet it here.
Redblacks vs Stampeders Betting Tips:
The Stampeders are 7.5 point favourites and the over/under line for this one is set at 52 points.
Stampeders lost quite a few defenders in the off season and that will make things interesting. They've lost a lot of key players and I wonder if that will throw them off.
Redblacks meanwhile have a new look offense and they're risking it with Dominique Davis.
I think the Redblacks defense will be strong here while their O-line will be weak and that will cause this game to go under.
Blue Bombers vs BC Lions Betting Tips:
The BC Lions are just 2 point favourites in this one and the over/under is set at 51.5 points. They'll be riding high with Mike Reilly and his new 4 year deal.
Honestly I am fine backing the Lions just based on that. They just seem hyped with him and I love when a team is hyped due to their QB. The guy can win games by himself.
Follow @BetCFL