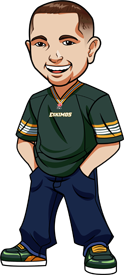 Written by Graeme on Tuesday, November 21st, 2017
Follow @BetCFL
And then there were two.
The 105th Grey Cup takes place this Sunday, featuring the Toronto Argonauts vs the Calgary Stampeders.
The game takes place in Ottawa at the TD Place Stadium. The Toronto Argonauts will hope to pull off an upset like the Ottawa Redblacks did last year. The Redblacks shocked Canada when they defeated the heavy favourites, the Calgary Stampeders, 39-33.
Redblacks winning stopped a run the West had with the Grey Cup which spawned 3 seasons. Prior to that the champions in 2012 were the Toronto Argonauts who destroyed the Calgary Stampeders 35-22.
It should be a really interesting game. The Argonauts ended the season on a 2 game winning streak to win the East and ended at .500. The Stampeders struggled at the end of the season with 3 losses to put their record to 13-4-1.
Both teams got a bye in the semi-finals due to winning their respective divisions. In the Division FInals both teams won hard fought games as the Argonauts beat the Roughriders 25-21 and the Stampeders beat the Eskimos 32-28. Both very tight games.
In the regular season, the Stampeders thumped Toronto both times. 41-24 in Toronto and then 23-7 in Calgary.
What a game.
Argonauts vs Stampders Betting Tips:
I can't pick a winner in this one.
The Argonauts run at the end of the season has convinced me on them – they're coming into this one hot.
I like this to be a high scoring game instead.
I'm going to back Over 53 Points.
That's the only bet I can make.
Follow @BetCFL