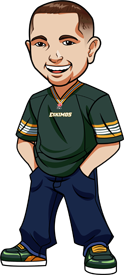 Written by Graeme on Wednesday, October 26th, 2016
It was a 2-2 week last week as the CFL season draws to a close.
We got off to a good start with the Tiger-Cats vs RedBlacks game. We had over 52.5 points in that one and it went over with ease with 75 points in a real thriller of a game.
It was a big win for Hamilton because not only have they clinched a playoff berth but it can make them be host for the East final now. An extremely important win as they are just 1 point behind Ottawa.
The Stampeders won by 18 points with a 31-13 win over the Argonauts. Unfortunately we lost that one by 1.5 points as we had Argonauts +16.5. That was a disappointing one as the Argonauts were competitive initially but couldn't keep it going.
We had the Roughriders -7 but their impressive run came to an end with a loss to the Alouettes. Either way I think we just had to bet that one due to the way Saskatchewan were playing.
We wrapped up the week with a Lions -2 victory over the Eskimos.
Everything is still up in the air in regard to who plays whom in the playoffs of course and we still have two weeks left! We know who will be in the playoffs but we don't know the matchups yet.
For example if Winnipeg win or draw this week then Edmonton even with a win move over to the East division. The West could even finish in a 3 way tie at 10-8 going to a tie breaker between common tied clubs.
Basically yeah – everyone is going to want to win if possible.
Let's get to this weeks tips:
Best America Sportsbooks for CFL
Eskimos vs Tiger-Cats Betting Tips:
The Eskimos go into this one as 2 point underdogs. Honestly after seeing the fight in Hamilton last week I think I have to go with them to carry their momentum over.
I know a large part of that fight was just to clinch that playoff spot but you have to think with only 2 weeks left they want to keep the momentum strong.
It's tough to back an East team over a West this season but I'm going to take Tiger-Cats -2. Hamilton beat the Eskimos 37-31 back in July and I like the same to happen again.
Redblacks vs Blue Bombers Betting Tips:
The Blue Bombers are coming off a bye week. You never know how a team will react to a bye week but it sounds like they're happy to have had the rest and extra preparation, and of course Darvin Adams is returning.
I'm going to take Blue Bombers -5.5 here.
Best America Sportsbooks for CFL
Lions vs Roughriders Betting Tips:
Despite their run coming to an end, Saskatchewan are just slight underdogs here at 3 points against the Lions.
The thing with a lot of those Sask wins is it was against teams from the East. Sure on that run they beat the Eskimos but that was it.
I have to go with Lions -3 here. I just think they're MUCH better than the Roughriders and will dominate this one.
Stampeders vs Alouettes Betting Tips:
Have to go with Stampeders -10 here. It's not like Montreal being at home is a big thing for them with that 2-6-0 record and while they may keep it close – the Stampeders are focused and look good and thteir defense is sick. Montreal will struggle to score.
[social]