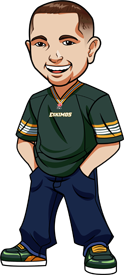 Written by Graeme on Thursday, July 25th, 2019
Follow @BetCFL
Following on from our 3-1 week in the CFL, we had a 2-2 week last week.
We opened the weekend with a loss. We had the Stampeders -10.5 and while they won over the Toronto Argonauts, they were only able to win by 10 points.
We bounced back with what was probably our easiest win of the season on the Friday night. We took the Winnipeg Blue Bombers -9.5 and they thrashed the Redblacks 31-1. That game was over by the half and it was nice to relax there.
We took the Alouettes +4 as we felt they had the momentum going into the game against the Eskimos. The Alouettes got a huge 20-10 win there which was great to see. It's been a tough time for Montreal fans so good to see that.
We then took the Lions/Roughriders game to go under 51.5 points. Unfortunately that game exploded and just didn't give up and ended up a 38-25 win for Saskatchewan.
We've got two games tonight for a change, then one on Friday and finally one on Saturday.
Stampeders vs Redblacks Betting Tips
The Stampeders are coming off that solid win over the Argonauts. The Redblacks are coming off that humiliating loss to the Winnipeg Blue Bombers. The sportsbooks are expecting a big comeback performance from the Redblacks. While they don't think they can win, they have them priced at +6.
The Redblacks are 0-4 ATS as they go up against the inconsistent Stampeders. They just can't seem to get rolling. Juwan Brescacin being back for the team was huge though and Ka'Deem Carey looked excellent too.
For me it's all about the schedule. Stampeders have tough games coming up against the Eskimos 3x, the Alouettes and the Bombers. I'm expecting Jonathan Jennings to play tonight and I think his confidence will be shot from last week.
Stampeders -6 and I think they win by at least 10
Argonauts vs Eskimos Betting Tips
The Argonauts are still seeking their first win of the season as they go up against the 3-2 Eskimos. The Eskimos are 2-0 at home and are big favourites at -11.5 to beat Toronto.
It was all about the turnovers last week as Bethel-Thompson just kept getting picked off. He needs to step up this week but I am not sure if he will.
Eskimos are on a quick turnaround here and may be tired. I don't think this will be a big offensive game especially with CJ Cable out.
Blue Bombers vs Tiger-Cats Betting Tips
The Blue Bombers are the only team with a perfect record in the CFL. They go up against the 4-1 Tiger-Cats. Hamilton have the benefit of 3 home games there where they have won however.
While it's too early to call this game is getting hyped as a 2019 Grey Cup preview and I can see why. I hope it's a good one.
Tiger-Cats despite their perfect home record are slight underdogs at +2.5.
I just feel like the Bombers are untouchable. Still no confirmation if Bighill is playing or not but Tiger-Cats are missing Simoni Lawrence and I think Nichols will have fun here.
Bombers -2.5 as they continue their unbeaten run
Roughriders vs Lions Betting Tips
These two teams had a good game last week with Saskatchewan running out 38-25 winners. That put them above the Lions and they go into this one as slight favourites.
I think the Lions turn it around here though. They want that first home game win no doubt. They'll be fired up after las week. This team was one of the favourites to win the Grey Cup and I think they get back on track here.
Follow @BetCFL