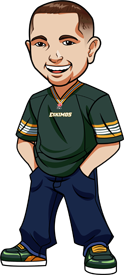 Written by Graeme on Thursday, October 26th, 2017
Follow @BetCFL
Sorry for the delay in tips – the lines are starting to take forever to come out for the CFL. Really annoying.
Used to be we could get the CFL Tips up as early as Tuesday but now it's late Wednesday before the lines are up and even then, it's not always all the lines.
Last week was a 2-1 week with a push and the only loss being a massive upset.
The Stampeders were 10 point favourites over the Roughriders and they were our lone loss of the week. Saskatchewan know how important every win is and they went to TOWN on Calgary. They're now 4th in the West just 1 win below the Eskimos.
Speaking of we had the Eskimos to win and they did it. Lions are out of the playoff race but put up a huge fight against Edmonton. The Eskimos -2 came in as they won 35-29 in overtime.
We also had Hamilton to win and they dominated Montreal.
Finally we had Argonauts -1 and that was a push as they won 29-28.
We're onto Week 19 now let's see what we got:
Tiger-Cats at Redblacks Betting Tips:
Hamilton go into this road game as 6.5 point underdogs.
The Redblacks need the win if they want to steal the East. If they don't beat Hamilton then they lose out on that.
Both the Argonauts and the Redblacks have already got a place in the playoffs.
Ottawa have lost Sinpoli and now Gavins which is brutal. However I have to think that with Trevor Harris performing and how important this one is, they'll do the business. The Tiger-Cats don't have any pressure on them but I think Ottawa wanting it more is what will matter. Redblacks -6.5.
Alouettes at Roughriders Betting Tips:
It's looking likely that the Riders will crossover to the East. Honestly with quite a few players rested I could see Montreal pushing hard here. The point spread is 16.5 points and I'd advise a bet on Alouettes +16.5. Yeah yeah they're a dumpster fire but there is enough changes in Saskatchewan that I think they won't be as cohesive as they are and they'll "only" win by about 10.
Lions at Blue Bombers Betting Tips:
Bombers are 6 point favourites and they looked great last time they played BC. Bombers want that home playoff game and I think they'll get it. Missing Darvin Adams sucks hard for them but they still are a hell of a team and I like them to take the Lions to town. Blue Bombers -6 is my play.
Stampeders at Eskimos Betting Tips:
The Eskimos are still looking at stealing that home playoff game from Wimmipeg but I think after last weeks performance, Calgary will come out strong here. I'm going to take Stampeders -3.5 as I just think they'll care that much more. In saying that if the Blue Bombers lose I'd advise staying away. So maybe keep the bet till game time.
Follow @BetCFL