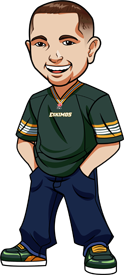 Written by Graeme on Friday, October 17th, 2014
We had an excellent 3-1 week last week, with the CFL Betting Tips.
Our first winning betting tip was the Tiger-Cats +3.5. We predicted it would be a very very close game and that it was – the Argonauts JUST snuck out the victory 34-33 in a very tight one.
Our second winning betting tip was the Alouettes, who just dominated the Roughriders. 40-9 in a complete thrashing.
Speaking of thrashings – we won again thanks to the Eskimos over the Blue Bombers, covering the point spread there.
Our sole loss for the week was the REDBLACKS who were dominated by the B.C. Lions. It's like the Lions suddenly woke up and realized hey – we actually need to start winning some games.
4 weeks left in the regular season and things are looking quite interesting.
The West will be very, very interesting. The Eskimos visit Saskatchewan to play the Roughriders. If Edmonton win then they've probably did what they needed to do and will be through to the CFL Playoffs. If they lose? Then it's anyones ball game.
What's worse for Edmonton is they have a bye week next week so if they lose, they will have to sit out and potentially watch other teams get closer to them or leapfrop over them. Scary stuff.
In the East it's still tight between everyone except the REDBLACKS. Every win means something, and the Alouettes play the Argonauts in what is going to be a massive game.
Let's get to the tips.
REDBLACKS vs Tiger-Cats Betting Tips:
Quite the point spread on this one, with the Tiger-Cats 11.5.
That's a lot of points.
Tiger-Cats rarely blow anyone away, although they did beat Ottawa 33-23 earlier in the season. We think the REDBLACKS can keep this close enough at 11.5 points.
However we'd advise not betting in all honesty. With points being a factor – Tiger-Cats may run up the score if they can.
Alouettes vs Argonauts Betting Tips:
What a massive game this is. Alouetts on the road are 4.5 point dogs.
Like last week – same rules apply. Going to be a very close game – we'll take the underdogs, the Alouettes. +4.5.
Stampeders vs Blue Bombers Betting Tips:
Winnipeg are just in a sad, sad state at the moment.
They've now lost 6 in a row and look just horrible. Their season is an all-out disaster.
Have to go with the Stampeders here. On the road, 8.5 points that's a lot – but the Blue Bombers are poor at both home and away, and in the divisional games are an embarassing 1-6-0. Everyone is taking points off them at the moment and we have to go with the Stampeders to continue that streak and dominate Winnipeg. 8.5 isn't the best though – so again probably best to stay away.
Eskimos vs Roughriders Betting Tips:
Easy, easy bet on the Eskimos.
-3.5, not the best point spread but Eskimos are killing it and Saskatchewan are just blowing up at the moment. They just don't have what it takes. Eskimos need this win to keep them on track for the divisional title, and we think they will win by a touchdown.
So – two bets overall that are tips. The other two we would stay away. We love Alouettes +4.5 and then the Eskimos is a bet too. Go with both of them at Bovada for Americans and Sports Interaction for everyone else.
[social]