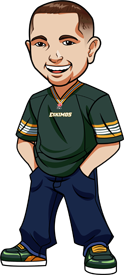 Written by Graeme on Friday, August 30th, 2013
Follow @BetCFL
Week 10 of the CFL sees the Winnipeg Blue Bombers on the road as they visit Saskatchewan, to take on the Saskatchewan Roughriders.
Last week, Saskatchewan won a hard fought battle against the Eskimos as they continue to show that they are the best team in the CFL. Saskatchewan have just the one loss under their belt, and look to continue their winning streak against the Winnipeg Blue Bombers.
As for Winnipeg…..ohhh Winnipeg. Just like we called at the start of the season – things would not be going good for them. They were given a good old fashioned thumping on the road at Hamilton, as their losing streak was extended to 6.
Winnipegs season is over – and that's a sad fact. Just 2 points out of the first 8 games they're not even going to get 3rd place. At this point they have to start looking at the long-term.
The point spread and betting odds suggest what we're thinking, which is as follows:
Winnipeg Blue Bombers vs Saskatchewan Roughriders Betting Odds:
Point Spread: Winnipeg +14.5 vs Saskatchewan -14.5.
Over/Under: 53.5 points.
The lines are taken from Bovada – and you should sign up at Bovada get the free $350 bonus they're doing for the next week, and bet it all on Saskatchewan, because 14.5 points isn't going to be enough.
Winnipeg Blue Bombers vs Saskatchewan Roughriders Betting Tips:
I just can't see anything OTHER than a complete blowout here for the Roughriders.
You're looking at the best team in the CFL against the worst team. I mean yeah – the Edmonton Eskimos are also stuck on 2 points but they've been competitive in their games. Winnipeg meanwhile, have been blown out by the Tiger-Cats(twice!), Stampeders, Argonauts – very rarely do the Blue Bombers put in a competitive game.
Saskatchewan meanwhile have practically killed everyone – and they have no problem running up a score. From a 37-0 win over the Hamilton Tiger-Cats to a 36-21 win over the Calgary Stampeders.
They're going to do the same here.
Winnipeg have switched up quarterbacks again. Of course they don't have a choice with Pierce and Hall injured – but Goltz is now in. It doesn't matter. Winnipegs offensive line is an utter mess, and bringing in Bellefeuille to co-ordinate the offense is not the way forward. They're going "back to basics" when it comes to offense – oh yeah, I'm sure the Saskatchewan Roughriders are running scared!
There's going to be picks after picks – and you're going to see a full crowd of about 45k here for the Labour Day Classic. That's NOT good news for Winnipeg. Saskatchewan even more than any other game are going to be putting on a show, and you know Geroy Simon is going to rip the defense apart.
Bet the Saskatchewan Roughriders to dominate and easily win here by 3-4 touchdowns. I'd expect a shutout to be honest. Bet this at Bovada.
Follow @BetCFL