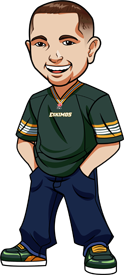 Written by Graeme on Friday, October 4th, 2019
Follow @BetCFL
We have just a few weeks left in the CFL season, as we enter week 17 of the CFL. There are 21 weeks total before the playoffs begin on November 10th.
Last week was a week of good action. No line was out by the time we wrote the tips in the Eskimos vs Redblacks game so we didn't have a tip for that one. We just leaned on the over knowing it'd be a close battle. It was but the Eskimos came out 21-16 winners.
We lost with the Bombers -4.5 as the Tiger-Cats thrashed them, however won the other two games. We had Roughriders -6.5 and that was as easy as you can get it with the Riders winning 41-16. That was a huge victory.
The Alouettes +6.5 was the other play and that was a nice one. Scott called it perfectly saying he felt Lions would win but the Alouettes would cover the point spead. Lions won by just 2 points. Great call there.
As we go into Week 17, four teams have officially clinched the Playoff spot so far. Calgary, Saskatchewan and Winnipeg. However we don't expect there to be any surprised in regard to who picks up the other spots.
Let's get to it:
Eskimos vs Tiger-Cats Betting Tips
The Eskimos are 7 point underdogs as they go to Hamilton. The Eskimos have a less than .500 record on the road, while the Tiger-Cats are perfect at home.
if the point spread was 7 for every Tiget-Cats home game, they would have won 3 and pushed 2 with one loss which is quite impressive. This is a team that usually win by at least a touchdown at home.
They're returning home to play after three games on the road and will be up for this one with a bye week next week. If they win tonight it will tie a franchise record.
Eskimos will be without Trevor Harris of course and Logan Kilgore isn't too shabby. Honestly I think this will be a close one, but I'm going to take Hamilton.
Stampeders vs Alouettes Betting Tips
Calgary are 3 point favourites on the road in Montreal for the Saturday afternoon game.
Montreal are 2nd in the East and are looking good for the playoffs. They'd love to cement that with a victory here.
Calgary haven't been too hot on the road this season and Montreal have been decent at home. I just think Calgary are too good here even if Ambles is on the injury list as well. Veron Adams Jr. is back for the Alouettes but I don't believe that will matter.
Blue Bombers vs Roughriders Betting Tips
Both teams are in the playoffs and with the Division winners spot still up for grabs, they'll both be hunting for the win in this Saturday evening game. The Roughriders are the 4.5 point favourites.
Home field advantage is a big factor and considering both teams have 6-1-0 home records they'll be wanting that home field advantage. Winnipeg will be hurting after that big loss to the Tiger-Cats and I feel they have been regressing a bit. Saskatchewan will come in strong.
Have to take the home team here and honestly this is my bet of the week.
Roughriders -4.5; love this one. Click here.
Argonauts vs Lions Betting Tips
The Lions have somehow pulled a 3 game winning streak out of nowhere. It's probably not enough for the playoffs but don't tell this team that.
They're a whopping 9 point favourites for this one.
I mean the way BC are playing you just have to back them don't you? That's the way I feel. If they are a playoff team – as they are trying to act like they are – they come out and destroy Toronto.
Follow @BetCFL