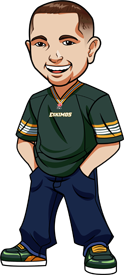 Written by Graeme on Tuesday, June 21st, 2016
It's that time again – the CFL season begins this week, with the first games taking place on June 23rd, 2016.
The host of the 104th Grey Cup for the 2016 season is Toronto, and the Argonauts will be hoping to be in that one. The Grey Cup takes place on November 27th, 2016.
It's going to be quite a good season. The Edmonton Eskimos are the favourites to take down the Grey Cup but only barely – with the Calgary Stampeders following them. Being the host city, the Argonauts will be hoping to get ther eand the bookies have them as 4th favourites.
Despite a horrendous 2015 season, the Roughriders have made the right moves according to the bookies and are expected to get to the CFL Post Season. At the other end, the Montreal Alouettes are the least favoured team.
If you're looking to bet the CFL, we can't recommend Bovada for Americans and Sports Interaction for everyone else enough.
Let's take a quick look at the CFL Grey Cup odds from Bovada for Americans and Sports Interaction for everyone else before we tackle the Week 1 Betting Tips:
Edmonton Eskimos: 5.00
Calgary Stampeders: 5.50
Hamilton Tiger-Cats: 6.00
Toronto Argonauts: 7.00
Ottawa Redblacks: 8.00
Saskatchewan Roughriders: 9.00
B.C. Lions: 10.00
Winnipeg Blue Bombers: 11.00
Montreal Alouettes: 13.00
Looking forward to it. Let's get to the betting tips for week 1:
Tiger-Cats vs Argonauts Betting Tips:
The Argonauts go into this one with the point spread at -4.5. Stubler coming back is an interesting one and it's probably what Toronto need to really stablize their defense. I think it will take time though. I think about Week 7 or 8 we'll really see the Argos taking off with their hot offense and the defense working really well. I'm going to take Over 53 Points in this one.
Alouettes vs Blue Bombers Betting Tips:
The home team, the Winnipeg Blue Bombers, are the favourites at -3. It doesn't surprise me. Montreal are one of those teams I just can't rate at all this season. Of course I do hope they get things going and figure out their QB situation as otherwise it will be a mess. But I gotta take Blue Bombers -3 here.
Redblacks vs Eskimos Betting Tips:
The Eskimos are the favourites with the Redblacks getting 6 points. It's quite the point spread and I'm tempted to buy one more point to make it a touchdown push – but either way I'm going to take Redblacks +6.
I'm a bit concerned about Henry Burris. Dude is getting up there in age. And I know Redblacks are going to have to adjust to Jaime Elizondo coming in but I see Burris being at the back as a positive. I also think the Eskimos have rang in too many changes to really rock things offensively just yet. Yeah the Redblacks defense has lost a few key players and the DL won't be bringing in the sacks like last season – but I think Eskimos are going to take time to adjust too and this will be closer than the point spread suggests. Bet this at Bovada for Americans and Sports Interaction for everyone else.
Stampeders vs Lions Betting Tips:
The B.C. Lions are the only home team to be underdogs at 4 points.
In pre season these two teams played with the Stampeders winning 31-21. For me though, it all comes down to Bo Levi Mitchell. The guy has really improved a lot over the last 2 seasons and he really made the role his own in 2015. There were quite a few games last year where he was the reason they won so many games and I think he is on track for another great season.
I think Bo Levi Mitchell is going to steer the Stampeders to a winning start by at least a touchdown.
I'm taking Stampeders -4 at Bovada for Americans and Sports Interaction for everyone else.
[social]