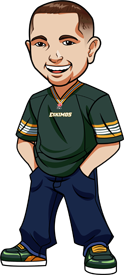 Written by Graeme on Tuesday, August 15th, 2017
Follow @BetCFL
Last week started off great for us as we went 2-0 to open the week, but unfortunately we ended up at 2-2.
We had the Eskimos -2 against the Ottawa Redblacks and the Eskimos continued their winning streak with a 27-20 win.
We also had the Alouettes over the Argonauts and the Alouettes covered there.
We put faith in Hamilton finally turning things around and…..they didn't. My god they're bad. We got quite a few e-mails after we tipped them last week with everyone in agreement with us – many thinking WInnipeg had pushed their luck too far and it'd run out. Nope. Blue Bombers had a convincing win.
The BC Lions were blown out big time by the Saskatchewan Roughriders 41-8.
It's now Week 9 and all 4 teams in the East have a losing record. Redblacks are 1-6-1 for the season which is just crazy. The Stampeders are off their bye week and will be hoping for a big win to put the pressute on the Eskimos.
Let's get to it:
Eskimos vs Blue Bombers Betting Tips:
The Eskimos go into this one at -1 and I fail to see how we can do anything other than bet the Edmonton Eskimos to cover that point spread.
The Eskimos haven't really had any blow out victories. Every game has been close. However they've still prevailed in all of those games.
The Blue Bombers have only lost twice this season but it was against the two upper echelon teams in the Lions and Stampeders. The Eskimos are in that category as well.
The injuries continue to pile up for the Eskimos but that just seems to make them stronger and give them more fight.
I've got to take the Eskimos here. Blue Bombers will fight them all the way but Edmonton just seem the better team.
Redblacks vs Tiger-Cats Betting Tips:
This is one of those games where from a betting perspective I hate it – but from a viewing perspective I love it. I'm extremely curious about this game.
It's a very tricky one. The Redblacks only have the one victory this season against the Alouettes and a tie against Calgary. They've had a lot of close games but never been able to win.
You have to wonder if the heads are going down especially after that Eskimos loss. Or if they're going to be able to pick themselves up knowing Hamilton are beatable.
I just can't advise a bet on this one. I'd lean towards Ottawa because Hamilton are awful but I can't advise anything for sure.
Stampeders vs Lions Betting Tips:
Calgary are -5 as they take on BC for the first time this season. The Stampeders are on the road and haven't been too successful there so far with a 1-1-1 record.
BC are coming off that dreadful perfomance against Saskatchewan. They're better than that. Problem is Saskatchewan seem to enter beast mode at home.
I can't advise a bet on this one either.
Alouettes vs Argonauts Betting Tips:
No line up yet. I'll try and update this when there is a line up.
Follow @BetCFL