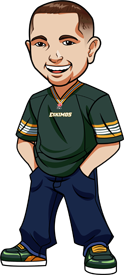 Written by Graeme on Wednesday, November 4th, 2015
Follow @BetCFL
Week 20 of the CFL season begins as we get closer and closer to the post-season.
It was unfortunately a 1-3 week for us with a lot of disappointing performances in Week 19.
The Edmonton Eskimos absolutely dominated the Montreal Alouettes and deserve to be sitting at the top of the standings.
The Eskimos will be facing the winner of the Stampeders vs Lions in what will be an interesting game.
As we head into this week the big question is in the East. Can the REDBLACKS keep up the pace and win the Division? All they have to do is beat Hamilton, or lose by less than 5 points. Hamilton need to beat them by 6 points.
The Argonauts of course are settled in their spot in 3rd place and will face Hamilton or Ottawa – whoever loses.
Should be an interesting week. Here's the schedule:
Friday, November 6th: Winnipeg Blue Bombers vs Toronto Argonauts
Saturday, November 7th: Hamilton Tiger-Cats vs Ottawa REDBLACKS, Calgary Stampeders vs B.C. Lions
Sunday, November 8th: Saskatchewan Roughriders vs Montreal Alouettes
Let's get to the betting tips for this week:
Blue Bombers vs Argonauts Betting Tips:
The Argonauts are -7 here. Honestly this is one of those games where it makes sense for the Argonauts to take it easy and take a loss if they really want to.
Winnipeg can make things tight and have a 50% record against the spread. They played once this season already and the Argonauts won 27-20 but with playoffs looming we like the Argonauts to take their foot off the pedal here. Take Blue Bombers +7.
Tiger-Cats vs REDBLACKS Betting Tips:
Redblacks go into this as 4 point favourites. These two played a few days ago and boy was it the opposite of thrilling – Ottawa winning 12-6. Ottawa contained Hamilton well and we're going to go with them doing the same at home. Let's take Ottawa -4. Props to Ottawa for a tremendous season.
Stampeders vs Lions Betting Tips:
The B.C. Lions are showing some fight lately, but go into this one as 1pt underdogs despite being at home. We just feel the Lions are outclassed this season and think that's a little bit too low in terms of the spread.
We like the Stampeders to continue their doiance lately. They've got a great record over B.C. and along with the Eskimos are the top team in the CFL and the team to beat. Take Stampeders -1 all day every day.
Roughriders vs Alouettes Betting Tips:
Both teams looked like they wanted the season to end last week so they can get prepared for next year.
Alouettes are 9 point favourites. However back in September Saskatchewan actually beat Montreal and in the last week of the season anything can happen. Saskatchewan have looked por lately but you're talking about a team that have played Calgary, Edmonton, Hamilton and B.C. A brutal schedule and we'll take Roughriders +9.
Bet the CFL at Bovada
Follow @BetCFL