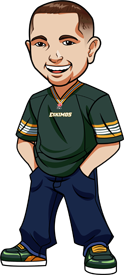 Written by Graeme on Thursday, October 9th, 2014
Follow @BetCFL
Welcome to week 16 in the CFL.
Not too much longer, and it will be time for the CFL Playoffs.
The Calgary Stampeders continue to dominate the West. They are now 12-2 after their huge win over the Roughriders last week. We tipped them at -4.5 and that line actually jumped after our bet to -7.5 by game time. Luckily we got on the right side of it for a nice win.
The West is still tight though. All 4 teams can still join the Stampeders – although you have to think the Blue Bombers are out of it. The Lions also it's going to be tough – we're hoping to see the Eskimos, honestly. That would be nice for Edmonton. Saskatchewan already had their time in the sun last year – let's see both the Alberta teams make the playoffs.
The East is still quite difficult. The REDBLACKS picked up just their 2nd win of the season, and that 42-20 victory crushed the Blue Bombers hopes most likely in the playoffs. That was quite the massive upset. Of course they have no chance in the East.
The Tiger-Cats are 6-7, and the Argonauts and Alouettes are 5-8 so it's really anyones game. This week sees the Tiger-Cats on the road in Toronto, where they'll also be in 2 weeks time. Toronto also have the Alouettes next week – so it's really Argonauts who get to write their own destiny here.
Of course they'll probably come through all that and then lose to the REDBLACKS in Week 20. Classic Toronto. BTW we're also working with SBT: Sports Betting Tips from now on so you will also see our CFL website show up there.
Here's the Week 16 schedule:
Friday, October 10th 2014: Tiger-Cats @ Argonauts
Saturday, October 11th 2014: REDBLACKS @ Lions
Monday, October 13th 2014: Roughriders @ Alouettes, Blue Bombers @ Eskimos
Some massive games this week, let's get to the betting tips:
Tiger-Cats vs Argonauts Betting Tips:
Tiger-Cats go into this one on the back of a 4 game winning streak. They're the underdogs though at +3.5.
This is a tight game between two tight teams, and we're going to be taking the team with the points. It helps that we're getting that .5 too that price is a steal. Tiger-Cats haven't had too many road games this season – but 2 weeks ago they were in Winnipeg and came out with the big win so you have to think they can do it again. If not it will at least be close – close enough that the +3.5 wins us it.
Bet Tiger-Cats +3.5 at Bovada.
REDBLACKS vs Lions Betting Tips:
The REDBLACKS won last week in the big surprise, and now they go to B.C. with 10.5 points. That's a lot of points. Considering they've kept a lot of games tight lately – for example 35-32 loss to the Roughriders, then we're going to have to go with that huge point spread.
Bet REDBLACKS +10.5 at Bovada.
Roughriders vs Alouettes Betting Tips:
Roughriders come into Montreal +3.5 underdogs. Saskatchewan are on a 2 game losing streak and everything that could go wrong for them has – they barely scraped by the REDBLACKS.
Roughriders are on a downward trend at the moment. It's possible they'll bounce back and they did beat Montreal back in August, but we have to go with the hot Alouettes who took points off the Stampeders recently.
Bet Alouettes -3.5 at Bovada
Blue Bombers vs Eskimos Betting Tips:
The Blue Bombers season is pretty much over, and the line represents that – +8.5 against the Edmonton Eskimos.
Eskimos are on a tear at the moment and it's hard not bet them here. The point spread isn't beautiful, and personally we'd avoid this one but if you're going to bet this game go with the Eskimos.
bet Eskimos -8.5 at Bovada.
Follow @BetCFL