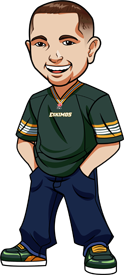 Written by Graeme on Thursday, July 21st, 2016
Follow @BetCFL
It was a nice 3-0 week last week with all of the point spread bets we made.
We had the Redblacks to cover the -1 in Toronto and they did that in style with a massive 10 point victory.
We also had the Eskimos -3 and that was a tight one – but thankfully they got that 4th quarter Touchdown to take a 4 point lead and that wrapped up the game.
We also had the Lions +2 and we didn't believe they should be underdogs in that one. It took till the 2nd half and the 4th quarter especially but the Lions stepped it up and got the big win.
We had a loss with the Tiger-Cats/Alouettes Over 47.5. We correctly called Hamilton putting up the points but we thought the well rested Alouettes would be able to match. We were unfortunately wrong there as Montreal couldn't even muster a touchdown.
Enough about last week – it's onto Week 5 of the CFL with the usual 4 games on the board. Let's get to the betting tips for these:
Stampeders vs Blue Bombers Betting Tips:
Winnipeg are at home for this one but they still go in as underdogs having lost both of their home games this season against Edmonton and Montreal.
The Stampeders blew the Blue Bombers away in Week 2 with a 36-22 victory.
The Stampeders are a tough team to really guage this season however even in tie or loss they've shown they are a hard team to beat. The Blue Bombers just don't look to have any drive in them. A large part of this game may be the Wilson vs Randle battle. Greg Wilson has a lot to prove here and you have to expect him to get a lot of action. I think Randle is going to struggle with him and I'm on Stampeders -5.5. I expect them to win by at least a touchdown.
Redblacks vs Roughriders Betting Tips:
The Redblacks are another road favourite at -6. Honestly there's not much else to say here that Scott didn't say last week. It's really hard to back Saskatchewan at the moment as they – much like last season – look like they're going to take awhile to really get rolling if they even do.
This one is on the Roughriders. Until Saskatchewan actually prove to me they're capable I'm just going to blindly bet against them. Well – point spread dependent of course. But anything below a touchdown I'll take as we've seen Ottawas ability to dominate a team. Redblacks -6
Bet at Bovada
Tiger-Cats vs Eskimos Betting Tips:
The Tiger Cats are 5 point underdogs going into this one. Honestly I've really enjoyed Hamilton this season so far other than that Lions game. They've showed a lot of fight and some great offense.
I do think Edmonton are the better team but I think this one could be a real barn burner. I'm going to take Over 54.5 points as at home Edmonton have shown some awesome offense and this could be a really good, high scoring game.
Alouettes vs Argonauts Betting Tips:
The Argonauts are 6.5 point favourites in this one. Montreal have had a bit of a slow start although they won their lone road game. Toronto are also seeking their first one at home and I think they'll get it here.
I'm taking Argonauts -6.5.
Bet at Bovada
Follow @BetCFL