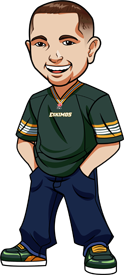 Written by Graeme on Wednesday, September 5th, 2018
Follow @BetCFL
Welcome to week 13 of the CFL. We're almost 3/4 of the way through the season. Boy has it flown in.
We made it back to back 3-1 weeks last week and it was a nice and easy one. Always nice that with only the Stampeders letting us down.
Our loss was with Calgary -7. They did beat the Eskimos but it took recovery after a bad 2nd quarter. They only won by 3 points to go 9-1 for the season.
We won with Alouettes +16.5 in the easiest bet of the year as Montreal didn't just cover the spread but won 21-11. A huge upset that one and it was nice and easy money. Alas it may mean the Johnny Football experiment is over as Pipkin has stepped in big time to lead them to two wins in a row. Props to the guy.
We had Roughriders -3.5 and unlike Calgary they had no issues covering the spread. They won 31-23 in a nice and easy victory.
Finally we went with Argonauts/Tiger-Cats over 51.5 and that one came in by the 3nd of the 3rd quarter. The final score was 42-28 for a total of 70 points.
With that Ottawa loss the East is starting to get interesting. If the Redblacks lose on Friday against the Lions that opens up things for either Hamilton or Toronto and should motivate them. It's a pity Montreal are hurting their momentum by having the week off.
Let's get to it:
Redblacks at Lions Betting Tips
That freak loss for the Redblacks cause them to go into this one as 1.5 point underdogs. It doesn't help that BC have a solid 3-1-0 record at home.
Ottawa are one of those teams that are very hard to figure out. They just looked lost against Montreal however I think we have to assume this one will wake them up and they will be more consistent. Lions have lost Arceneaux and I don't think the line is reflective of that. They had the bye week to sort things out but I think they'll struggle.
Tiger-Cats at Argonauts Betting Tips
I really wasn't impressed with Toronto in that game against Hamilton as they looked poor offensively with a lot of poor passing, and allowed over 500 freaking yards on defence.
The Tiger-Cats are an inconsistent enough team I feel but their offense can produce like no other and I'm going to back them to do that this week.
Roughriders at Blue Bombers Betting Tips
Saskatchewan are 4 point underdogs in this one and I'm quite surprised at that.
They're currently the 2nd best team in the West rankings wise and I mean I would say are the 2nd best team in the CFL behind you know who.
Winnipeg aren't anything special at home. Collaros is rolling, Elam and Purifoy have made their defense something special, and I'm loving…
Stampeders at Eskimos Betting Tips
Stampeders are -3 here after that tight one last week. Jorden and Evans were sidelines and Mitchell was limping but it was an impressive win.
However I think the Eskimos will be frustrated at how close it was and they matched them well. With how close they were last week I could see them stealing this one at home.
Follow @BetCFL