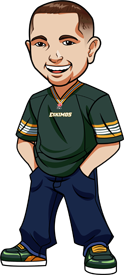 Written by Graeme on Wednesday, November 26th, 2014
It's both a sad and happy time of year when it comes to the CFL season.
We're happy – oh so happy – because on Sunday November 30th, we get the Grey Cup.
But then on Monday December 1st, we then get months and months without the CFL.
Sad times.
We know a lot of you guys just want the betting tip. So if you don't care why we're betting a team or the reasoning, here it is:
Bet the Tiger Cats +8.5.
We're seeing +7.5 at some books. That's fine too. Bet that. As of this writing, you can get +8.5 at Canadas #1 sportsbook and most reliable, Sports Interaction.
There you go – there's your Grey Cup 2014 betting tip. If you want to read more about the teams and the reasoning then here you go:
Review of the Season:
Hamilton Tiger-Cats: It was quite the season for the Tiger-Cats. They started off a whopping 1-6-0. They managed to turn it around but in most seasons – a 9-9 record wouldn't be enough. Thankfully for them, the East was horrible this year with the Alouettes also 9-9 and the Argonauts 8-10.
It was a stuttering end to the season for Hamilton though, as they could barely beat Ottawa. 34-25 in a thrilling game, they then matched up against Montreal in the do or die game and did just that – 29-15. They would then destroy Montreal 40-24 to move into the Grey Cup.
Calgary Stampeders: Quite the season for the Stampeders. They were matched strongly throughout the season by the Edmonton Eskimos. However they managed to top the West with a solid 15-3 record, and go into this one as heavy favourites.
Games Between The Two:
The two played Week 4. Calgary got the 10-7 win there. They would play just once more that season – 30-20 was the result for the Stampeders.
However both games were during the Tiger Cats bad phase. Hamilton pulled out all the stops after that with wins over the Roughriders, Eskimos, Lions etc. It still wasn't easy goings for Hamilton – the Argonauts would beat them twice. But they got here – and from what we saw last week they are looking solid.
Why We Are Tipping The Tiger-Cats:
We see this as a very close game – and a touchdown plus a few extra points is a great deal.
The big thing about the TiCats is one Zach Collaros, their quarterback. He means so much to this team. Look at the records with and without him this season: they went 8-5 when he played, and they went 1-4 when he didn't.
He's a game changer and having him in the squad is huge. FYI – Stampeders are yet to face him.
On top of that we have Brandon Banks. This guys return yards are epic – and he set the CFL playoff record last week. That's going to scare the hell out of the Stampeders when it comes to punting. It's also going to pump up the TiCats knowing that if they can force a punt, they're going to get a LOT of yardage and possibly touchdowns.
The Stampeders history in the post season isn't great either. They do great in the regular season but always seem to crumble come the post season.
We feel Tiger Cats are motivated, and this is a very even game. A touchdown is what could settle it, and we're going to take the Tiger Cats with the points.
Bet that at Sports Interaction.
[social]