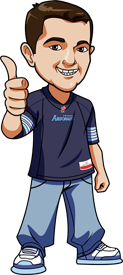 Written by Scott on Thursday, July 31st, 2014
Follow @BetCFL
Wow that was yet another good week of CFL action. And we had a good week for the CFL Betting Tips as we went 3-1.
Our first win came when we had the Winnipeg Blue Bombers +9 against the B.C Lions. Well we didn't need the +9 spread for this one as the Bombers came out on top 23-6 thanks to 5 field goals from Bombers kicker Lirim Hajrullahu .
Next we had the Hamilton Tiger-Cats -5.5 against the Ottawa REDBLACKS. The Ticats came away with the victory winning 33-23 in what turned out to be the Dan LeFevour show. The Hamilton QB passed for over 300 yards and added over 100 on the ground in the victory.
Our 3rd win came when we had the Saskatchewan Roughriders -7 against the Toronto Argonauts. This wasn't even close in the end with the Riders destroying the Argos 37-9. Riders running back Will Ford ran for 114 yards and three touchdowns in his first game as a Rider
Our only loss for the week came from the game of the week between two unbeaten teams. We had the Edmonton Eskimos +1.5 over the Calgary Stampeders. The Stamps won by 4 points though, 26-22, killing the spread and now are the only undefeated team remaining. But what a fantastic game and with the win Stamps QB Bo Levi Mitchell tied Jeff Garcia for the most consecutive wins as a starter in franchise history.
Here's how the week 6 schedule looks:
Thursday, July 31st: Blue Bombers vs Tiger-Cats @ 7:00 pm
Friday, August 1st: Argonauts vs Alouettes @ 7:00 pm, Lions vs Stampeders @ 10:00 pm
Saturday, August 2nd: Roughriders vs REDBLACKS @ 7:00 pm
Ok let's hope we can get ourselves another good winning week for the CFL Tips.
Here are the Week 6 CFL Betting Tips
Blue Bombers vs Tiger-Cats
Well on paper this looks like it's going to be a one sided game. The Blue Bombers currently sit tied for 2nd in the West Division with a 4-1 record while the Tiger-Cats are in a 3 way tie for first in the East Division with a 1-3 record
After Lefevour had that monster game last week you know that he has momentum on his side but will that be enough for the Ticats to take this one?
Both teams had impressive wins last week and that's going to carry over. But will Hamilton's health issues be a factor?
This is going to be a close game and with the spread going their way this is a good bet or us. I like the Bombers chances to move to 5-1 after this week's game.
So our tip is Winnipeg Blue Bombers +4.5 . Place this bet at Sports Interaction
Argonauts vs Alouettes
The Argonauts have had a rough year so far. And with the injuries they currently have things are not looking any brighter for them.
After last week's pounding at the hands of the Roughriders the Argos need a huge bounce back game not only to help turn things around but to prove to themselves that they can win with all of their wide receivers hurt
But Montreal comes into this game rested and ready and this may spell disaster for the Argos and their fans.
Again I am a Argos fan but I don't like their chances in this one. So I have to go with the Alouettes -3. Getting 1.95 odds at Sports Interaction
Lions vs Stampeders
Both of these teams didn't have strong outings last week.
For the Lions they were on the receiving end of an ass kicking from the Blue Bombers.
The Stamps, although they won and remain unbeaten, were lucky to come away with their win. After the first quarter was finished they had 0 first downs and only 20 total yards of offence.
But they are the best team not only in the West but in the entire CFL for a reason, there are really good. And with Bo Levi Mitchell looking for his 8th win in a row to pass Jeff Garcia momentum will be on his side
Gotta go with the Stampeders -4.5 to remain undefeated
Roughriders vs REDBLACKS
Well what can I say? The Riders are coming off of a huge win over Toronto last week and are hungry to put their last road game behind them when they lost by a landslide to the Argos 46-15. They got Toronto back last week so now it's time to move on from the last road loss
Will Ford is money right now and has the confidence to continue where he left off last week.
I am going to go with the defending champs in this one.
Roughriders -5.5 at Sports Interaction
Follow @BetCFL