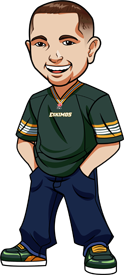 Written by Graeme on Thursday, September 14th, 2017
Follow @BetCFL
It was a 2-1 week last week with the tips as the Tiger-Cats made it 2 in a row!
We took Hamilton +12 and they didn't even need the points as they beat the Ottawa Redblacks 26-22 on the road.
What a great victory for Hamilton.
We also had the Lions -7.5 and they thumped the Alouettes. That was the final straw in Montreal as Chapdelaine was on the chopping block.
We had the Stampeders -6 but the Eskimos gave them a good game and they couldn't cover there.
We turn our attention to Week 13. 4 games as per usual. Roughriders at Hamilton who are going for a 3 game winning streak. Eskimos go to Toronto, and we have the Lions vs Stampeders and Redblacks vs Alouettes.
Let's get to it:
Roughriders vs Tiger-Cats Betting Tips:
The Tiger-Cats go into Fridays clash as 5 point underdogs with an over/under of 56 points.
Hamilton have won 2 on the trot while the Roughriders beat the Blue Bombers then lost to them. Sask are brutal on the road.
It's a tricky one. However Hamilton are starting to come into their own and I like to see that. Saskatchewan are the better team for sure but their road record is brutal.
I'm going to go with Under 56 Points in this one. I think it will start fast then slow down. Hamilton should play a more conservative game while Saskatchewan have been pretty tame on the road offensively other than that Eskimos game.
Eskimos vs Argonauts Betting Tips:
Toronto are still 2nd in the East with one less game played while the Eskimos are in 3rd and slipping fast. The BC Lions are right behind them.
Big game for Edmonton here who are -2.5. Eskimos have been solid on the road thus far. Honestly I think Edmonton snap out of it here. They're still a solid team and I think they can get back on the winning track here and end this bad streak.
Lions vs Stampeders Betting Tips:
The Stampeders are 9-1-1 going up against the 6-5-0 Lions. Part of the reason I like the Eskimos is that they know this is a huge week for them as they can get further away from B.C.
I'm confident the Stampeders win but do they cover that point spread? In BC a month ago it was just a 4 point gap between them. Lions have a good offensive unit and I'm hesitant here to pick a team.
I'm going to skip this one.
Redblacks vs Alouettes Betting Tips:
The Redblacks are still top of the East despite their 4-7-1 record. The Alouettes are crushing hard at the moment.
Honestly I'm a sucker for a coaching change and even though stats don't prove it matters I'm actually going to bet the Alouettes +2 based purely on the coaching change.
So Alouettes +2 is the play.
Follow @BetCFL