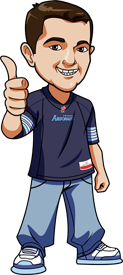 Written by Scott on Friday, November 7th, 2014
Follow @BetCFL
Well here we are, week 20 of the 2014 CFL Season.
A great week for us last week as we went 4-0.
First we had the Hamilton Tiger-Cats -6.5 against the Ottawa Redblacks with the Ticats coming out on top 34-25. Two interceptions returned for touchdowns including one late in the 4th pushed Hamilton to the victory.
Next we had the Blue Bombers +11 against the best team in the CFL, the Stanpeders. Well we didn't need the 11 points as Winnipeg beat Calgary 18-13
The Edmonton Eskimos beat up the B.C Lions 37-3 to easily cover our -5.5 bet. Huge game from Eskies QB Mike Reilly who threw for 289 yards and carried in 2 TDs
Lastly we had the Montreal Alouettes to beat the Toronto Argonauts by -2. I hated making this bet against my team but it worked out for us. This was the tightest bet we made but it was the Als over the Argos 17-14 to barely cover the spread.
Let's keep the streak alive with the Week 20 CFL Betting Tips. And you guessed it, place bets at the best place to bet on the CFL Bovada
Redblacks vs Argos Betting Tips
This game will have Ottawa basically auditioning players for next year. And it's Toronto who is going to have to jump all over this opportunity.
The Argos need to win this game. Ricky Ray may sit this out but they have enough to carry them to a win and by winning put pressure on the two teams in front of them in the East
Stampeders vs Lions Betting Tips
Calgary has already won the West and the best record for the season. So they will once again be resting their star players giving them plenty of time off until they have to play after their bye week in the first relief of the playoffs.
The Lions are tied with the Riders for third in the West and will do whatever they can to win this game. Against the Stamps B-Squad you have to like the home teams chances in this one
Alouettes vs Tiger-Cats Betting Tips
Great game here. It's #1 Montreal vs #2 Hamilton.
Montreal started the season just horribly only to go on a tear winning their last 6.
You have to like this story to continue in this one. Montreal wins and comes away as the East Division Champs
Eskimos vs Roughriders Betting Tips
Edmonton is guaranteed 2nd place and home field for their round one matchup. So they will be resting some of their better players in this game.
The Riders are going to take advantage of this situation and come away with the win
Argos -7
Tiger-Cats Win
Montreal +3
Roughriders -3
Find all of these odds and place your bets at Bovada
Follow @BetCFL