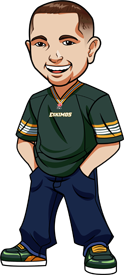 Written by Graeme on Wednesday, August 31st, 2016
Follow @BetCFL
Our winning season continued with a 3-1 week last week.
It got off to a bad start with the Redblacks -2.5. The Lions beat them 29-23 with a big 4th quarter by the Lions. Harris had a good enough game but it wasn't enough.
Thankfully the Blue Bombers instantly turned things around with a 32-18 thrashing of the Alouettes. We had the Blue Bombers +2 and said they'd win – and they did just that.
We also went with the Riders +14 and that was a nice easy one. Saskatchewan had that monster 3rd quarter where they went 6-0 and that was nice.
Finally we had Tiger-Cats/Stampeders Over 53.5. That was an insanely tight one and we got lucky there. We went into the 4th thinking it was a loss, but a 28 point massive 4th put that one over.
It's now Week 11 in the CFL and a rare week where we have 5 games, with the Argonauts pulling double duty. Here's the schedule:
August 31st: Lions at Argonauts
September 1st: Redblacks at Alouettes
September 4th: Blue Bombers at Rough Riders
September 5th: Eskimos at Stampeders, Argonauts at Tiger-Cats
Let's get to it:
Lions vs Argonauts Betting Tips:
The Lions go into this as 3 point favourites. They're such an inconsistent team at the moment it can be hard to back them – but they do have a good record of 7-2 against the spread. Not a factor I really consider too much but it's good to know.
On top of that the Argonauts at home have been just brutal. They just can't seem to perform there. The Lions also have scintillating road form and with the Argonauts pulling double duty this week I'm not sure they can give it their all. I'm going to take Lions -3.
Get free CFL bets at Bovada.
RedBlacks vs Alouettes Betting Tips:
Ottawa are -2.5 favourites in this one. They came off their bye week to face Montreal in Ottawa and got creamed. Glenn threw 5 touchdowns and it was just a great performance by Montreal. they then had that struggle against the Lions although Montreal also didn't perform against Winnipeg. I just felt that the matchup was a nice one for Montreal and that will give them the confidence. I'm taking Alouettes +2.5 and could see them winning.
Get free CFL bets at Bovada.
Blue Bombers vs RoughRiders Betting Tips:
It's a small point spread of 4.5 with the Blue Bombers the favourites. I just can't bring myself to ever bet Saskatchewan with less than double points at the moment. Winnipeg -4.5.
Get free CFL bets at Bovada.
Eskimos vs Stampeders Betting Tips:
A big game. Everyone gets tied up in the "Battle of Alberta" obviously but it's hard not to look at just how good the Stampeders are at the moment. They have a perfect home record and know how to really dismantle a team.
This is the first game these two are playing this season. This is a very tight one but the point spread is just enough for me to take the Stampeders. Honestly if it was 8.5 I'd maybe lean the Eskimos way but I think Stampeders cover often enough by a TD to make this a Stampeders -6.5 bet.
Argonauts vs Tiger-Cats Betting Tips:
No lines for this yet. I'll post tips when they come in. In the meantime check out Bovada for the updated lines.
Follow @BetCFL