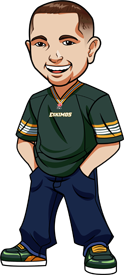 Written by Graeme on Tuesday, July 4th, 2017
Follow @BetCFL
After a poor start to the CFL season, we turned it around last week with a solid 3-1 week.
It started off good on the Thursday with the Redblacks +8 coming in. The Stampders won that one 43-39. Ottawa look good this season though it has to be said.
We saw a very disappointing performance from Toronto against B.C. That was a frustrating one. We decided we'd have to back them until they show otherwise and welp – they showed it right there. That was the sort of performance we expected from them in Week 1.
We had the Alouettes +8.5 and they kept it close against the Eskimos who squeaked out the 23-19 win.
Finally we took the Blue Bombers -1 and whew that was a close one. Winnipeg thankfully won 43-40 in overtime but the Riders are looking good.
Just have to wonder if these two close losses will wear on them.
Lions vs Alouettes Betting Tips:
The Lions are -2.5 favourites going into this road encounter in Montreal. The Lions lost 30-27 at home to Edmonton in Week 1 before crushing Toronto last week. The Alouettes had that tough lost to the Eskimos last week although beat the Roughriders the week before.
It's a very tight game however I think the B.C. Lions offense will be too much for them. What's good about Montreal is their defense and I think we'll see a very strong performance from the B.C. Lions here.
I'm taking Lions -2.5.
Bet this at Bovada
Stampeders vs Blue Bombers Betting Tips:
The Blue Bombers are +3.5 underdogs at home to the Calgary Stampeders in this Week 3 CFL game. Winnipeg had that tight game against the Roughriders last week and got the win. I've not seen enough from the Blue Bombers to really make a decision here. They were looking bad early on but did fight back and won – so will we see the early performance or the late performance?
I've went back and forth and I just can't predict this one. I do think Calgary take it but I'm worried about that late Blue Bombers performance and if they can keep the momentum going.
No Bet
Argonauts vs Redblacks Betting Tips:
Big game in Ottawa this week with Toronto +5 point underdogs against the Ottawa Redblacks.
Honestly I've just got to take Ottawa Redblacks -5 here. I mean if you look back at that Stampeders game they really should not have lost there. There was just a lot of odd plays and dumb mistakes that cost them as well as some things you just have to shake your head at.
Maybe Ricky Ray will have another incredible performance but I think what we saw from Toronto last week was what we're going to see most of the season. The Redblacks are the better team and I like them to win here by at least a touchdown.
Bet this at Bovada
Tiger-Cats vs Roughriders Betting Tips:
The Tiger-Cats are just 1 point underdogs as they take on Saskatchewan.
Hamilton were strong favourites this season for a reason and it's crazy that they're 0-1 right now. They're missing Tolliver this week and that's tough. I'm going to wait on this one and see how the T-Cats perform. I just don't have a lot of faith in them.
No bet
Follow @BetCFL