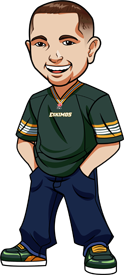 Written by Graeme on Friday, August 6th, 2021
Follow @BetCFL
Welcome everyone to Week 1 of the CFL season.
Unfortunately, I got my days mixed up.
I did not realize that the Tiger-Cats at Blue Bombers game was yesterday. I thought it was today so I skipped that obviously and instead shall be covering the remaining three games taking place.
It didn't matter too much as the sportsbooks didn't have odds up for the rest of the games.
Of course, we missed out on last year's CFL action due to COVID. That um sucked a lot.
We've got three games this weekend which are the Lions at Roughriders, Argonauts at Stampeders, and Redblacks at Eskim….Elks.
That one is gonna take a bit of getting used to.
We might be a bit rusty but it is what it is.
Let's jump right into the betting tips although personally, I don't think it would be the worst decision for y'all to wait a week. 2 years is a long bloody time ha. I'll be doing just a quarter of what I usually bet honestly.
Lions at Roughriders Betting Tips:
The BC Lions will probably be happy about that year off. Most people have forgotten about their 2019 season. Remember that 1-10 start. Ouch.
People are feeling optimistic there. Rick Campbell as coach could be big. It may work well for Mike Reilly too and him and Burnham should bring the heat. Some solid changes to the OT line.
Roughriders struggling with injuries before the season even begins. I think Lions might surprise, and am tipping Lions +6.
Argonauts at Stampeders Betting Tips:
The Toronto Argonauts are 5.5 point underdogs as they visit Calgary to face the Stampeders.
In 2019, the Argonauts didn't make it to the playoffs with a 4-14 record. The Stampeders were 2nd in the West,but fell to the eventual Grey Cup champions, the Winnipeg Blue Bombers.
Toronto made a lot of changes to their team and I like that they picked up Ryan Dinwiddie as the QB coach.
Calgary is one of those teams you always want to take when they are at home. In saying that this isn't the Stampeders of old and I am slightly concerned about them. They have lost a ton of talent although Bo Levi is still there which is obviously good.
On paper, the Argonauts are the better side I would honestly say. Will that play out? I'm fine with going with Argonauts +5.5.
Redblacks at Elks Betting Tips:
The Ottawa Redblacks are 8 point underdogs as they face the Edmonton Elks. The Elks were 8-10 in 2019 but still made the playoffs due to how utter crap the East was. The Redblacks finished 3-15. Edmonton beat the Alouettes before losing to Hamilton.
Ottawa didn't really ring in the changes. They had a lot of players retire during the off season and I just don't feel inspired by this team.
The Elks meanwhile made some solid changes. Walker, Edwards and Wilder Jr. are all excellent pickups. Some good pickups in the secondary as well.
Gotta take Elks -8 here.
Follow @BetCFL