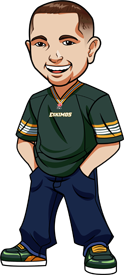 Written by Graeme on Tuesday, October 11th, 2016
Follow @BetCFL
What an incredible run it has been for the free CFL Betting Tips.
We went 4-0 two weeks ago which was pretty damn awesome but we went 4-0 AGAIN last week to make it an 8-0 run.
It's been an incredible run for us and a nice season and we hope to continue it over the next few weeks before the Grey Cup.
Last week started off great as we took the Roughriders +7 and they surprised everyone with a victory over the Ottawa Redblacks. This was just amazing to see and further makes the East look bad.
We had the Blue Bombers -1.5 and we said that it was going to be a very close game. Well it sure was but again we were on the right side of things as the Blue Bombers won by two points.
Next we had the two games taking place on Monday, October 10th. Our first one was Eskimos -3 and that one came up. It was a huge win for the Eskimos who were clearly spurred on by the B.C. Lions loss the day prior.
Finally the Stampeders continued their incredible season with a 48-20 victory on the road in Toronto. They look just fantastic and actually seem to be getting better as the weeks pass. Very impressive stuff.
With that, we move onto Week 17. The games are on Friday and Saturday this week with the REDBLACKS at the Tiger-Cats and Blue Bombers at the Lions on Friday. On Saturday it's the Roughriders vs Argonauts and Alouettes vs Stampders.
Let's get to it:
Redblacks vs Tiger-Cats Betting Tips:
The Ottawa Redblacks go into this game as 2 point underdogs. Ottawa are still top of the east but just barely 1 point over the Tiger-Cats. Hamilton had a bye week last week while Ottawa are coming off that tough loss to the Roughriders.
The Tiger-Cats are without Collaros again. Of course he was out for the first 7 games of the season. I think the Redblacks will pick themselves up though. I liked that QB change last week – it was risky but a cool move to see and I think Ottawa will further their lead in the East. Redblacks +2.
Blue Bombers vs Lions Betting Tips:
That big win for Winnipeg last week against the Lions sees them move up tied with them on points in the West although with one more game played. The two play again this week, but with it taking place in B.C., the Blue Bombers are 5.5 underdogs.
The Blue Bombers however have now made it into the playoffs and I think they may just take their feet off the gas this week. The Lions had a great offensive game and their defense just couldn't step it up. Lions -5.5.
Best America Sportsbooks for CFL

Good deposit bonus, lot of unique bets & props. Excellent mobile & live betting.

Have the best odds the majority of the time

100% to $250 Deposit Bonus, sometimes have really good lines
Roughriders vs Argonauts Betting Tips:
The Roughriders have now made it 4 wins this season and props to them for that. Toronto are really struggling and Saskatchewan are 1 point underdogs in this one.
I don't know – I love what the Riders are doing but I think the Argos get their playoff hopes back on track here. That's the crazy thing eh? 8 losses in 9 games, 5-10 record, still able to make the playoffs. I'm going to take Argonauts -1 here in a massive game for them.
Alouettes vs Stampeders Betting Tips:
A ridiculous line of Alouettes +15.5 for this game. Honestly I can't recommend betting a team to cover the spread by over two touchdowns unless it's in the NFL and it's a team that features Tom Brady. I'd avoid betting this one but if you want the action go with Alouettes +15.5.
Follow @BetCFL