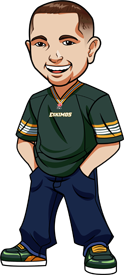 Written by Graeme on Thursday, October 17th, 2019
Follow @BetCFL
Welcome to Week 19 of the CFL 2019 season.
Just a few more weeks to go until the playoffs. Can't wait and we'll be bringing you CFL 2019 Playoff Betting Tips for every single game.
Unfortunately following on from a 3-1 week, it was a bad week for us with two very close losses and two not so close.
We had the Under 48 in the Redblacks vs Argonauts game. That one finished 28-21 meaning it was a 49 point game. We were on track in the first half but the second half saw a lot of points. Worse was the Torontos 1 point in the 4th quarter that meant it wasn't at least a push.
We had the Stampeders -3 against the Roughriders but they only won by 2. Another one where it all came crashing at the end with a 10 point 4th quarter by Saskatchewan.
Alouettes lost to the Blue Bombers 35-24. Blue Bombers offense put up the points every quarter there. We had Alouettes +4.
We had Over 45.5 in Lions vs Eskimos and the less said about that game the better.
Let's focus on this weeks CFL betting tips now:
Argonauts at Alouettes Betting Tips
The Argonauts are 10.5 point underdogs in this one. They have nothing to play for except pride and not finishing last. Knowing the Redblacks are at Hamilton I'd hope Toronto take this opportunity to try and notch up a win and cement a 3rd place finish in the East.
We saw a lot of fire from them last week as they beat Ottawa. These two teams last played in August and Toronto gave a good game of it at home losing 28-22.
On home ground, Montreal should win no problem. The only question is if they cover the point spread or not. I think they don't. I think Toronto will be up for this game and try and finish the season strong, while Montreal are just trying to avoid injury and are waiting until the playoffs.
Roughriders at Lions Betting Tips
The BC Lions are 7 point favourites as they host the Saskatchewan Roughriders.
The Roughriders are chasing the Stampeders for that top spot in the West. The Blue Bombers are also there and it's very close. BC Lions haven't been too shabby this season but they obviously haven't been good either.
Saskatchewan just had that tough loss to the Stampeders which hurt things. I've got to think they come out motivated here. Back in July they thumped BC and I see similar here. I think Saskatchewan rack up the points in their chase for the first round bye.
Redblacks at Tiger-Cats Betting Tips
Tiger-Cats are 17 point favourites in this one. Big point spread considering they have already won the division. They have a ridiculous offense of course and are also 10-3-2 ATS which is impressive with a perfect home record.
Honestly I just don't know if the motivation will be there for him. Yes they'll win but by this amount of points? Depends how badly Ottawa want to bounce back.
No bet for me. Just a high variable point spread. I'd lean Redblacks.
Blue Bombers at Stampeders Betting Tips
Calgary look to continue their wins as they host the Blue Bombers. Winnipeg are still in with a chance of taking the West so this should be a good game.
Stampeders stepped it up last week and the bookies expect a dominant one here with Calgary -7. Blue Bombers have had some disappointing road performances.
However I think Winnipeg keep this one close.
Follow @BetCFL