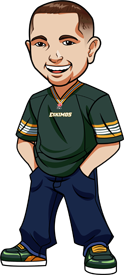 Written by Graeme on Wednesday, October 31st, 2018
Follow @BetCFL
Week 20 of the CFL was a 1-2 week for us.
We really thought the Calgary Stampeders would put on a good performance as they round out the regular season but they did not. For the first time in forever they were underdogs and couldn't even cover as the Winnipeg Blue Bombers beat them 29-21.
We won with the Ottawa Redblacks +3.5. That was a tough one but with the injuries at Hamilton we expected a bit of a lame performance from them. That's what we got as Hamilton lost 30-13.
We had the BC Lions +4 as we thought they could hang around with Saskatchewan but it was not to be. The Roughriders demolished them 35-16.
Scott will be kicking himself too as he was so tempted to go with the Alouettes last week. He didn't as it was the most gut feelings of gut feeling picks there was and Montreal ran out 40-10 winners.
It's Week 21. Playoff wise, everything is decided in regard to who qualifies so it's going to be an interesting week. Let's get to it. Only 3 games have lines currently.
Argonauts at Redblacks Betting Tips
Toronto are 7 point underdogs in this one.
Is it wrong if I just want to fade all the playoff teams? Redblacks are in the playoffs and have the division locfked up. Argonauts are bottom right now and if they want to claw their way into 3rd for some respect the yhave to win here.
Gotta go with Argonauts +7 and hope this team has some pride in them still.
Blue Bombers at Eskimos Betting Tips
Winnipeg are 5.5 point underdogs. This is one where I'll take the playoff team. The Blue Bombers are on a nice run and reading everything from their camp they want to keep that going. Harris said that – they have to keep the winning attitude – and I believe we see that here.
The Eskimos – man who knows how they had this huge crash it's completely unbelievable and I don't think this team has fight or pride on them. It's been a disappointing season especially considerign Reilly didn't miss a game and this is a mentally messed up team.
Alouettes at Tiger-Cats Betting Tips
The beaten up Tiger-Cats regular season is pretty much over with. I can't see them caring too much about this game. Masoli isn't expected to play the full game.
Last time these two matched up the Tiger-Cats destroyed the Alouettes. Johnny Football will be looking forward to this one after Hamilton released him. He's going to be motivated coming into this game.
Honestly I can see Hamilton just giving up this game and not caring too much and with the injuries they have had who can blame them? If they manage to fight so be it but I've got to think Alouettes want this one a LOT more and will take it.
Follow @BetCFL