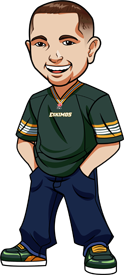 Written by Graeme on Wednesday, September 23rd, 2015
It's Week 14 of the CFL and we've got a lot of big games in front of us.
The REDBLACKS got the big win over the Roughriders last week as they continued their momentum. They are now 2nd in the East and could be playoff bound. Wouldn't that be an amazing thing considering their young history. Even though neither of us are REDBLACKS fans – we're still rooting for them in a way.
They've now won three in a row and take on the Argos. Toronto had a break last week and come back from that hoping to shake their own losing streak.
Stampeders take on the Blue Bombers. Calgary are still top of the West after a massive win over the B.C. Lions while Winnipeg are hurting from the Montreal Alouettes result. Should be an interesting game.
The B.C. Lions will hope to pick up a crucial win this week against the Eskimos in the West. Otherwise they are effectively out of the playoff race. But the Eskimos look back in business and it's going to be a tough one.
In the final game of the week, the Montreal Alouettes visit Saskatchewan. The East is still open so the Aloeuttes know that a couple of wins puts them right at the top half of the group. The Roughriders meanwhile will just be looking to not embarass themselves.
The Tiger-Cats are off this week, and will spend this week cursing the gods for the Collaros injury. No way are they anywhere near the same team without him.
Let's get to the schedule:
Friday, September 25th: Stampeders vs Blue Bombers
Saturday, September 26th: Lions vs Eskimos, Argonauts vs REDBLACKS
Sunday, September 27th: Alouettes vs Roughriders
And now of course the weekly free CFL Betting Tips:
Stampeders vs Blue Bombers Betting Tips:
The Stampders go into this one as 10 point favourites over the Blue Bombers. A lot of points for WInnipeg to be giving up at home but last time these two played in Winnipeg, Calgary ran out 36-8 winners.
However last week the Stampeders didn't look too solid. Really they were gifted the game. Winnipeg though also have a shaky defense. We're going to take Over 48.5 points. Just a pity we can't bet on the amount of fumbles or turnovers because there'll be a lot.
Lions vs Eskimos Betting Tips:
Lions go into this as massive 11 point underdogs. It's a tricky one. They turnover the ball so much, and their QB situation is a mess. Eskimos meanwhile really didn't look too hot last week despite the win. As I mean they gave up so many yards against backups. Not great.
We'll take the Lions +11 here as we think they are capable of keeping it tight. Bet this at Bovada for Americans and Sports Interaction for everyone else.
Argonauts vs REDBLACKS Betting Tips:
A massive game, and the point spread is Argonauts +3. The Redblacks are just looking great at the moment and they had a field day in Saskatchewan. If they can get their defense tightened they could actually take the whole division. Let's go with Redblacks -3.
Alouettes vs Roughriders Betting Tips:
Alouettes are -1.5. They're going up against Saskatchewan. It almost seems like a trap line. Crompton is back, Alouettes D is solid and it's ridiculous if they lose this one. Take Montreal at Bovada for Americans and Sports Interaction for everyone else
[social]